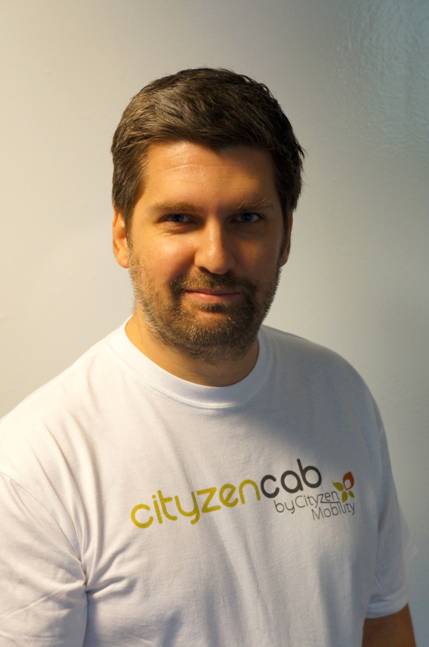 I think we can all agree on one thing: Paris is the worst city for finding a taxi. Even when you call one of the established taxi companies, you can be on hold for up to an hour in busy times. Several times, I have even reserved a taxi more than 24 hours in advance and it still doesn't show up when it's supposed to. It can be a nightmare during peak hours, especially in the rain. 
So when I was approached by CityzenCab, a new taxi service in Paris that operates on the concept of a "shared taxi," I was more than happy to learn more from Guillaume Mathieu (photo on left), this new company's founder, and share my findings with my readers. (A little reminder that I do not accept payment for interviews – I conduct interviews with people when I believe they have something to say worth sharing!) 
Could you tell us a bit about CityzenCab and the services it offers?
CityzenCab is the first "shared taxi" service. It is available throughout Ile-de-France, meaning in Paris but also in all the cities of Essonne (91), Hauts-de-Seine (92), Seine Saint-Denis (93), Val-de-Marne (94), Val d'Oise (95) and Seine-et-Marne (77). Soon, CityzenCab will also be available in other major cities in France such as Lyon, Bordeaux and Toulouse.
CityzenCab allows you to travel by taxi to/from Parisian airports (Roissy-Charles de Gaulle and Orly) and Parisian train stations (Gare de l'Est, Gare Saint-Lazare, Gare Montparnasse, Gare de Lyon, Gare du Nord, etc.) paying 50% less then with other taxi services, as you are sharing your taxi with another passenger. CityzenCab can also take you to/from other destinations, not just transportation hubs, if you order a private taxi. Soon, shared taxis will be available for additional routes as well.
The idea behind this shared service is to increase transportation capacity for all Parisians and "Franciliens" (those who live in Ile-de-France) without putting more cars on the road, which is already too crowded. So the idea is to make it easer and cheaper for those who need a taxi and for those who could use a taxi but don't because they think it's too expensive. And this savings is coupled with helping to preserve our planet.
Environmental responsibility is very big concern for CityzenCab. We have estimated that CityzenCab allows greater mobility opportunities. Specifically, we estimate a potential to add 200 million new taxi journeys per year in the cities of France, while using the same number of vehicles and hence without adding more CO2 into the environment.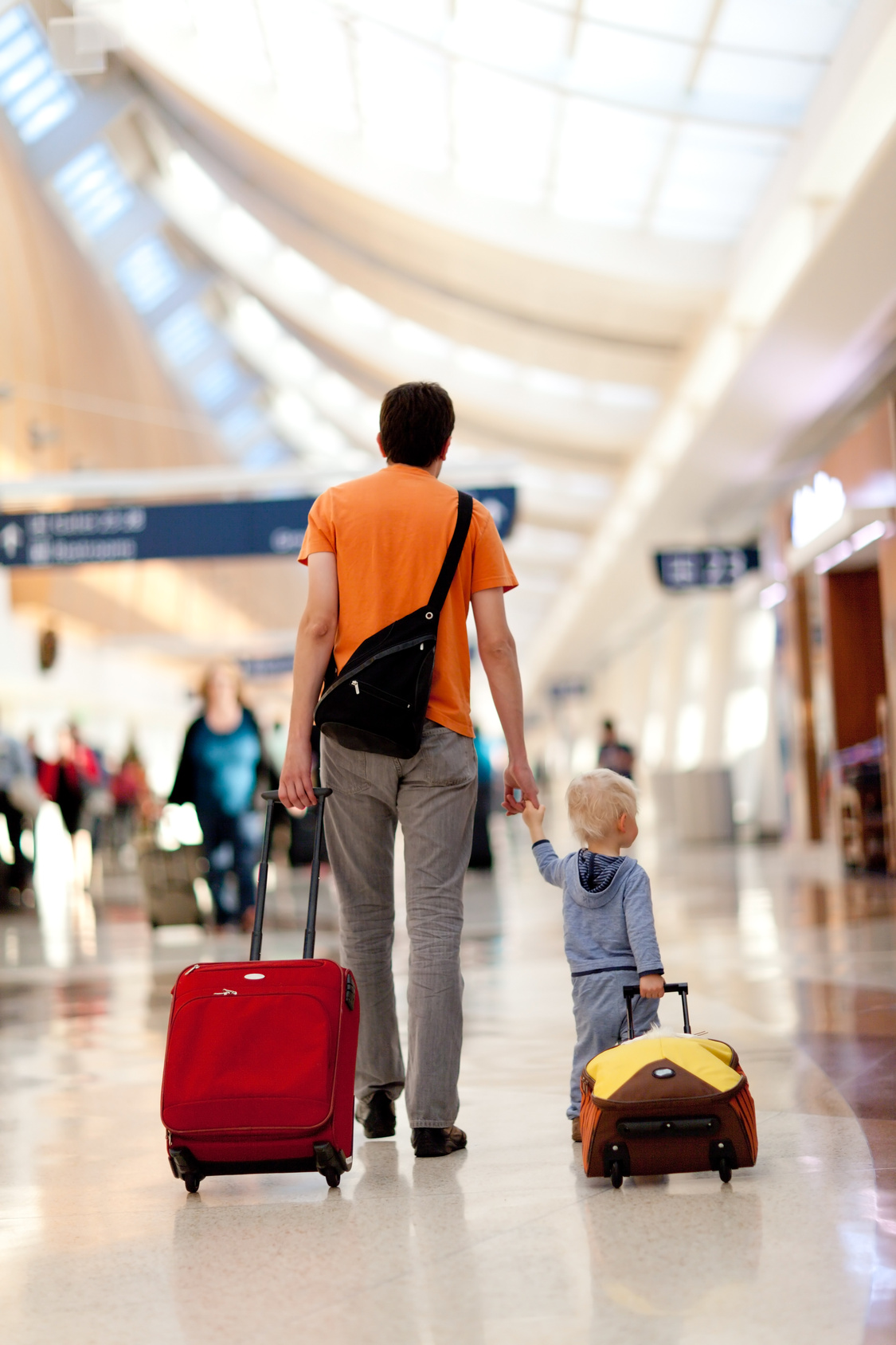 How does CityzenCab differ from other taxi services?
CityzenCab differs from other taxi services for a number of reasons. It is the first shared taxi service. It allows you to enjoy the comfort and security of a taxi without having to pay too high a fare, as you share the taxi with another person. It is about 50% less expensive than if you were to take the taxi by yourself. Also, for those who know how complicated it often is to get a taxi in Paris, CityzenCab, thanks to its partnership with more than 1500 cabs, is available anytime, and of course anywhere in Ile-de-France.
CityzenCab also has an online reservation platform. Booking your cab on www.cityzencab.com is really easy: it will only take you about 30 seconds!
If I am sharing a taxi, how does CityzenCab ensure that I do not waste time or arrive late?
CityzenCab guarantees that your pick-up/drop-off times (as confirmed in your electronic ticket) will be within 30 minutes of your requested time, or they will send a private taxi for you at no extra cost to you.
Can I use CityzenCab to get to the airports?
CityzenCab is available to/from all parisian airports (Roissy Charles-de-Gaulle and Orly) but also to/from  all parisian train stations (Gare de l'Est, Gare Saint-Lazare, Gare Montparnasse, Gare de Lyon, Gare du Nord, etc.).
Could you give us an idea of the pricing?
As an example, it will cost you €29 to get from the south of Paris to Roissy-Charles de Gaulle airport. The price is fixed, regardless of the day, the time and the traffic conditions. The price is known and paid in advance when you make your booking, which is very useful for those who are afraid of being cheated by the taxi drivers (unfortunately it happens sometimes). It's very useful also if you do not have the right change with you to pay the cab driver. And, last but not the least, this price is guaranteed to you even if you end up being the only passenger in the vehicule (as we are just launching the service, you may travel alone in he early days). 
Do I need to register as a user of CityzenCab?
Yes, you need to register online as we need to give the driver your name and phone number. And CityzenCab needs your e-mail address to send you the electronic ticket by mail. As we said, there is no payment in the taxi.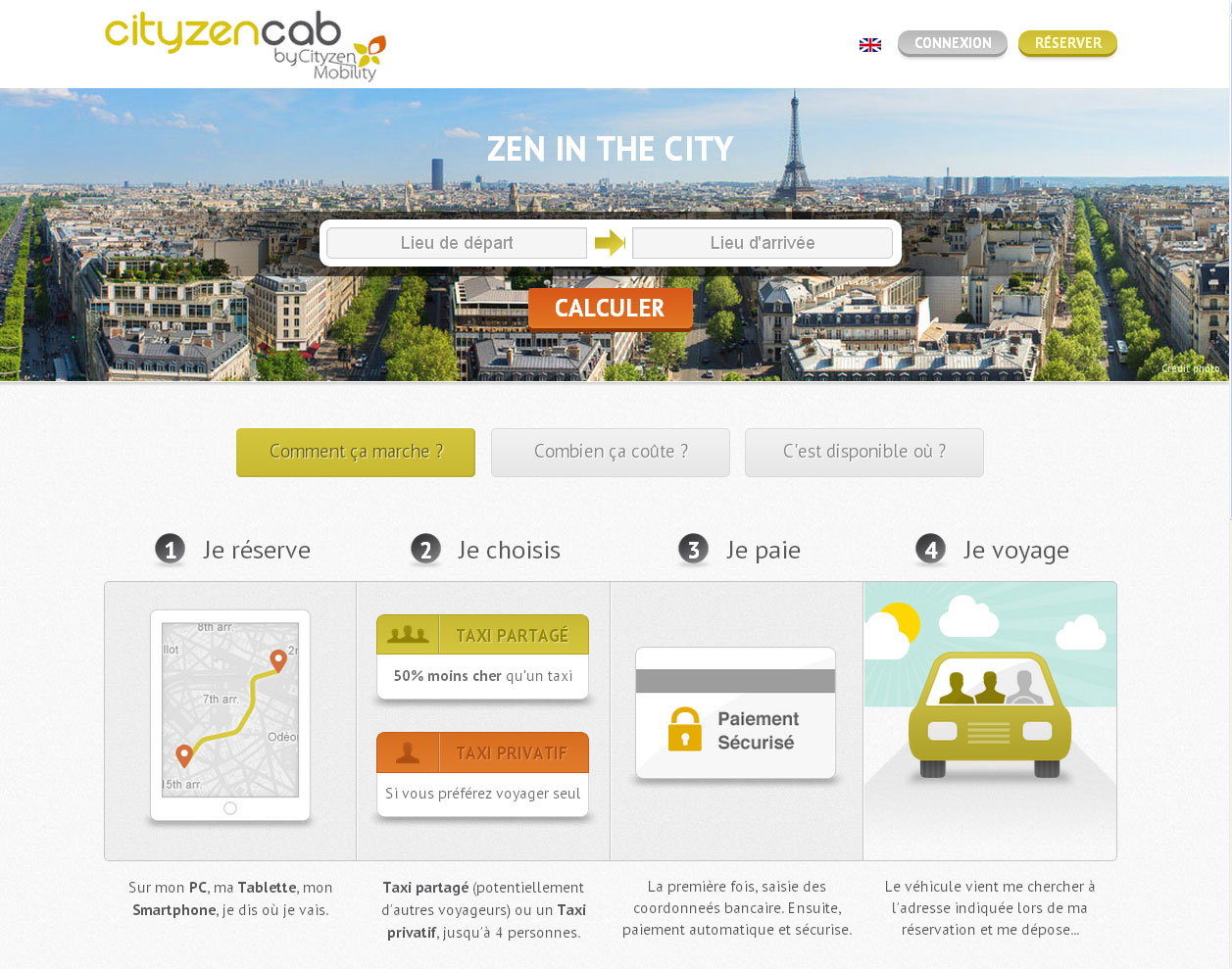 The CityzenCab website (also available in English)
How do I reserve a taxi? How far in advance would I need to reserve? Can I call or reserve by smartphone or do I need to be on a computer?
You can book your taxi directly on www.cityzencab.com. Our booking platform is designed to work with all devices (smartphones, pads, etc.). You don't need to print your electronic ticket either – as long as you have your reservation number, that is good enough. You must book the day before the trip for a "shared taxi", but you also have the option of booking a "private" taxi if you wish. In that case, you can make your reservation 1 hour before departure.
What is my best option if I need a taxi right away?
In less than 1 month you'll be able to book in real time on www.cityzencab.com.
If I need to move some boxes or small furniture, can CityzenCab help with this?
Yes we can, sometimes clients have specific needs, and CityzenCab has arranged partnerships with other private transport companies, so we ca always find the perfect taxi (which may be a small van) to match your needs.
***
Thank you, Guillaume for sharing this valuable information about your new company, and best of luck with the launch! For any specific questions about CityzenCab, feel free to email: contact@cityzencab.com.