Readers often ask me for Paris hotel recommendations. Until recently, I was always forced to answer that as I lived in Paris, I didn't stay at hotels in Paris. All my specific recommendations were always second hand and based primarily on location, i.e. on what I do know first hand.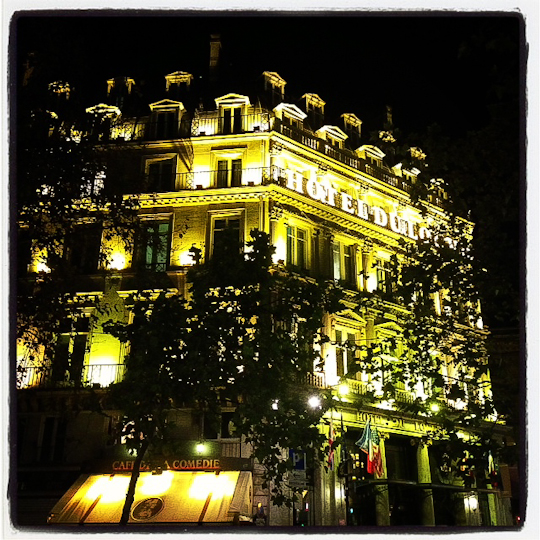 My initial advice is not to stay in a hotel at all. If you are looking for a more authentic Parisian experience, and often a more comfortable one, rent an apartment. Many apartments rent for a one-week minimum, but some (like mine) only have 3-night minimums. For two or three people, you will pay the same per night for a luxury apartment as for a pretty crappy hotel. And for four or more people, the savings are immense. Unsurprisingly, my top recommendation for an apartment rental in Paris is my own!
But apartment rentals may not be for everyone. If you are only in town for a night or two, you may have to stay at a hotel. Or if you want to be pampered with daily housekeeping and a 24-hour concierge, a hotel is the way to go.
I moved into my apartment this fall when I was still in the midst of apartment renovations. It was not ideal, but I had family coming to visit and we had a big push to get everything done before my final House Hunters International shoot. On about Day #2, I heard a ferocious bang on the door as I was getting out of the shower. Apparently, my shower was casting more water on the downstairs neighbor than on me. But it was not clear where exactly the leak was coming from. I got a call at work around noon: the news was not good. They would have to tear up the shower floor, find and fix the leak, and redo the tiling. My family and I were off to Brittany later in the week, but we had no choice but to move to a hotel for the next two nights. Fortunately, the plumber was picking up the tab on this one.
You may have noticed that I like to plan out my trips in advance. So I was quite annoyed at having to find a hotel the day of. I scoured the internet for a hotel near my apartment, in the lower Marais. Everything was booked. Then I had an idea. My cousins had stayed at the Hôtel du Louvre by the Louvre and the Jardin du Palais Royal when they visited Paris a couple of years before. They loved it. While not the Marais, the neighborhood is about as central as you can get and you are right next to the Palais Royal metro station on Line 1.
As three people, we booked a junior suite and were able to check in a few hours later. Our junior suite was just one room, but a huge room. Everything was impeccably clean and comfortable and the hotel staff was extremely friendly. The highlight of our stay was perhaps the breakfast at the hotel's restaurant, Brasserie du Louvre. It's about as close to a real American buffet breakfast as I've seen in France, though they also had typical German and Chinese breakfast offerings. (For €30, you can enjoy the breakfast even if you are not staying at the hotel.) The second morning, we were off to Brittany at 5am in an attempt to beat the holiday traffic. But we notified the hotel the night before and they prepared bagged breakfasts for us to eat in the lobby or take on the go.
In the end, our involuntary hotel stay was extremely enjoyable. The bad news? The junior suite was around €400 per night, and a standard double was not significantly less when you included a surcharge for the third person. But who knows, maybe you can find a good internet deal! If it fits your budget and you are not able to rent an apartment, I would definitely recommend Hôtel du Louvre for vacationers or business travelers alike.
Hôtel du Louvre
Place André Malraux
75001 Paris
Tel: +33 (0) 1 44 58 38 38
***
Which Paris hotels would you recommend?