Last week, I posted Part 1 of my interview with Daisy de Plume, the creator of amazing Treasure Hunts at the Louvre – and now beyond! She has recently launched THATd'Or (Treasure Hunt at the Musée d'Orsay). In Part 1 of the interview, Daisy shared with us an update on these exciting developments, and this week in Part 2, we get into the personal stuff: Daisy's relationship with the City of Lights and the museums she knows so well. For more information on Daisy's events, as well as the most current updates, I also invite you to visit her site: THATLOU.com.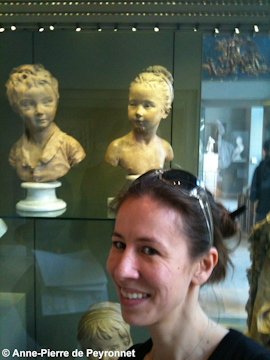 What is it about Paris that keeps you here?
Well if you asked me that question 5 years ago the answer would be completely different, but all relationships change, those with cities the most memorably sometimes. There are two main reasons which keep me here at the moment: our son and my business.
Our toddler Storsh has made both my husband (who's lived in Paris from his native Buenos Aires for ten years) and me see Paris and France altogether in a completely new light. I could see us wanting to have a little adventure of a few years somewhere else before school becomes too important, but I can't think of anywhere better to raise a child than France. There's a lot to complain about the French, but their systematic focus and encouragement of family and work-life balance is absolutely peerless (well ok, Sweden is perhaps better, but it's cold up there and only light half the year).
And of course I can't very well move the Louvre. It's large, you know!
Which is your favorite painting or room at the Louvre?
There are entirely too many to even begin to touch on so since we're in France I'll answer what is your favorite French sculpture at the Louvre?
This would be Pigalle's mischievous old sculpture of Voltaire, sitting on a rock in his birthday suit (privates tactfully covered with a scroll). His sinewy bod betrays his 70-odd years, with his runner's build having just a bit of waddle hanging – no, dangling – from his forearm. His impish eyes have just the right amount of fatigue circled below them. Despite his age, you can still picture him jumping fast as a gazelle from a young maiden's bed and into her closet, lest the noise downstairs be her father coming home. He was a prolific man – prolific of ideas, words, and women, and Pigalle captures all of this perfectly in this life-sized solid block of marble. I often wheedle him in to a treasure hunt if a piece of treasure is somewhere nearby, just so my hunters will get a glimpse of him and hopefully return for a proper visit.
As for the Musée d'Orsay, it's a museum I'm really just discovering (and in the most rewarding way, building treasure hunts there). There are a few pieces which pop out, but among my favorite is certainly an 1890 Winslow Homer painting called Summer Night. Homer started his career as a graphic reporter during the American Civil War, before going on to paint scenes of army life and the rural world with the Naturalist precision, popular at the time. After a stint in Paris, Homer used an Impressionist palette for a while then developed a personal style midway between Realism and Symbolism. Summer Night expresses this synthesis and may be considered one of the first masterpieces of American art still in search of its identity. With the moonlight making its ghostlike appearance on the Atlantic horizon, and then dancing on the water's edge more closely to the Maine shore, the painting is filled with both movement and music. The motion of the rougher waters in the foreground, a breeze made evident by one of the ladies' skirts and of course the movement of the dancers themselves brings the quiet scene to life. Are those silhouettes watching the water or the dancers? I wonder every time, and always conclude that either view'd be just as pleasant as the other. It is a scene that is very much alive for me somehow.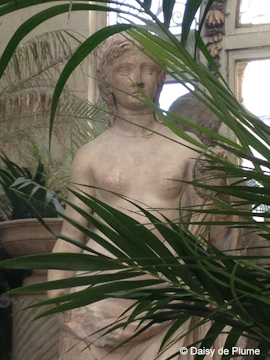 Do you have a favorite "off-the-beaten-track" museum in Paris?
Yes, I have several. The one closest to my office is the Jacquemart Andre (158, boulevard Haussmann 75008) which is Paris's equivalent to NY's Frick or London's Wallace Collection, insofar as they were wealthy financiers with a solid collection of Titian, Botticelli, Van Dyck and Rubens, and even have a lovely Tiepolo fresco overlooking their plant-filled winter court. Makes you forget that Paris is grey to just have a visit there. Plus it has a grand tea room that you can go off and be posh at for an hour or two among ladies who lunch (before tredging back to your dismally gray office reality!)
As for a left-bank favorite the Fondation Henri Cartier-Bresson (2, Impasse Lebouis, 75014) is small but fantastic. It has his official archive, but also has exhibitions of both little-known and famous photographers along with the top floor being a permanent collection of Cartier-Bresson's work. He defined Paris for me.
Where is your favorite place (park, restaurant, café, neighborhood) in Paris?
Favorite park: is the Louis XVI park in the 8th, off of Boulevard Haussmann and rue de Penthièvre. It has the most magnificent tree on the right bank, perfect for picnicking below (and unlike a lot of Parisian parks there's plenty of grass to spread out on). Moreover I find the Royalist Chapelle Expiatoire (2 euro entry) a peaceful place to be as well as an amusing one (for Republican France). There's a sculpture of Marie-Antoinette with one of her last letters from the Conciergerie chiseled into the marble below her.
(Current) Fave resto: PAN at 12, rue Martel 75010. It's a mix of many styles, from East Berlin bare minimum to Danish modern furniture, gorgeous wood paneled floors to a wonderfully varnished ceiling that add a richer dimension. The food is delicious and the menu changes nearly daily. And the service somehow makes one feel coddled even though your very aware of the waiter's superiority in a strange French twist. Reservations are advised (fashionistas cross town for it), but if you have time to kill for an aperitif before dinner there's a darling low-keyed bar called Vino Loco (8, rue de Paradis, 75010 Paris) around the corner.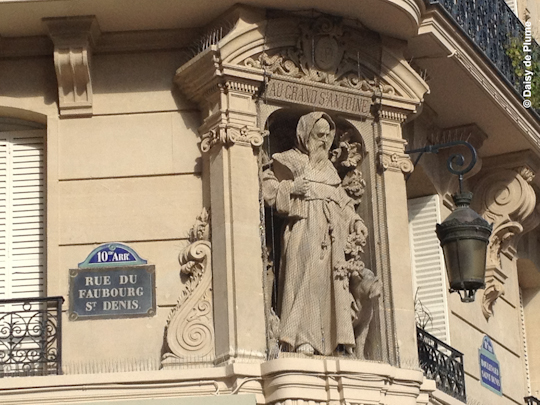 Fave neighbourhood: is Faubourg St Denis (FSD) which is in the SW corner of the 10th Arrt.  (just across the Grand Boulevards from the 2nd Arrt's Sentier, and neighboring the 9th Arrt).
FSD is a fully functioning colorful market street and a mini-UN of sorts, popular with Asians, Arabs, Africans and Bobos alike (Bobos being the Bohemian Bourgeois, over-educated French socialists who "feel for" underdeveloped countries, and like to claim poverty but wear 800-euro leather shoes and read Le Monde Diplomatique). The neighborhood's filled with covered passages and has a shabby-chic nightlife scene with hotspots like Chez Jeannette (47, rue du Fbg St Denis 75010) and L'Inconnu (17-19, rue de Mazagran, 75010). Plus under the layers of other cultures, it's actually quite rich in French history. The street is bookmarked by the Arch of St Denis, built in 1671-74 to commemorate the entrance to the city, stitching in Louis XIV's 17th Century Paris.  The word Faubourg means "False Berg" or "Sham Town" pointing to the fact that any street which bears this Faubourg word was on the outside of the city walls at one point. There are two famous turn of the century Brasseries within a stone's throw of one another – Julien (with divine art nouveau décor) and the Alsatian Brasserie Flo (with portly professional service and adorable gnome murals from 1903).
In just one sentence, why should someone sign up for a treasure hunt at the Louvre or the Musée d'Orsay with you?
Because you'll leave feeling like you own the place!
What advice do you have for first-time visitors to Paris who want to see the best of the museums but without getting overwhelmed?
First and foremost: Come on one of my treasure hunts!!
But also, apparently the Paris Museum Pass is really worth it. Time and again I've been told my clients that its value lies in skipping the enormous lines that can eat up whole afternoons at any one of the many museums here.
***
Once again, thank you so much for sharing all these insights and photos with us, Daisy!