I first met Caroline Nin at an event sponsored by My French Life and her voice captivated me. When I learned of her new concert series, a celebration of the works of the iconic Edith Piaf, I was eager to hear more of Caroline's story.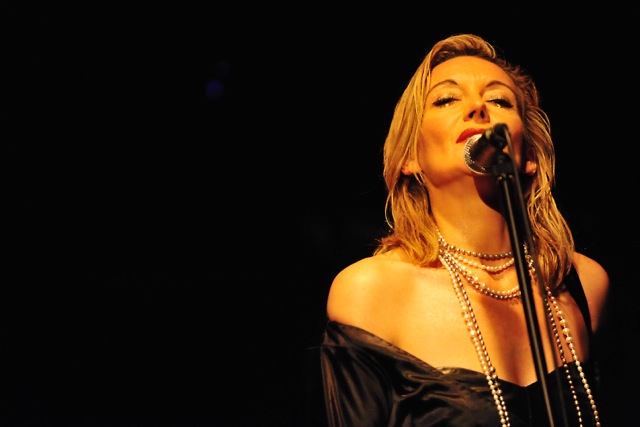 Caroline Nin, photo by Belinda Rolland
Caroline, please tell us about your current Edith Piaf concert series.
HYMNE A PIAF was touring until March 28th in Australia. The show has been performed and acclaimed outside France for the past 6 years: at the Sydney Opera House, the Royal Festival Hall (Queen Elizabeth Hall), the Edinburgh Fringe Festival …. I decided earlier this year to bring the show to Paris for the first time.
You had your opening night on April 10th. How did that go?
The opening night was sold out. The exact same show was in Australia two weeks before and the whole Australia tour was already sold out, so I felt at home. No, seriously, it was such an honor, the first ever season of HYMNE A PIAF sold out from the first night. I think Edith Piaf would have been proud.
What was your inspiration for this series?
I started singing Piaf's repertoire in London 10 years ago. It was in a different show, a variety show with some of my original material, songs of Jacques Brel, of Marlene Dietrich, of Grace Jones and I realized the impact Piaf's songs have had. This is how I decided to write the show HYMNE A PIAF.
How can we purchase tickets?
You can go on the Theatre's show link. Alternatively, we have an English-speaking box office that you can reach at +33 7 77 25 37 64 or my team takes bookings at info@carolinenin.com.
How did you decide to become a professional performing artist?
I have always known that I would be a performing artist, hence a professional one. I have performed many, many times over the years. It is the Edinburgh Fringe Festival in 1999 that made me decide to become a professional performing artist. It was a magical season and the joy of performing live during that Festival was so great that I realized that it was all I wanted to do in life.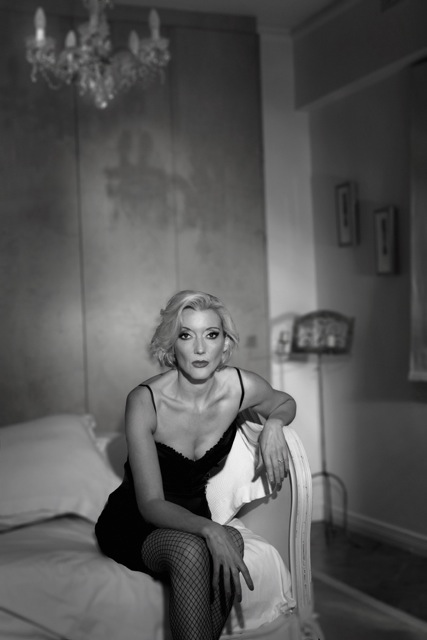 Caroline Nin, photo by Haydn Wood

Could you tell us a bit about your background?
From a very young age I was always putting on shows: one woman shows, singing, dancing. I joined drama school at the age of 19 in the Marais in Paris and very soon became a singer at the very fancy restaurant HOLLYWOOD SAVOY in the late 80s. I never looked back, singing was my thing. I have sang ever since. 
And about your professional training?
I was classically trained in the beginning of my singing career. I moved from Paris to London in the early 90s and there I didn't train in singing at all, but I studied music reading and writing at Goldsmith Universty College in London for two years. When I moved back to Paris in the early 2000s I went back to classical training with a fantastic Swiss soprano. In Australia, since I was touring all the time, I didn't have an established voice coach. Now, back in Paris, I am regularly training with a French coach who works mostly with classical works.
What do you enjoy most about your work?
Live performance.
What is the moment in your career you have been most proud of?
When I performed HYMNE A PIAF at the Elisabeth Murdoch Hall in Melbourne in June 2011 in front of a sold out audience of 1,200 people and the show was nominated that very night: Best Cabaret Show at the Helpmann Awards in Australia in 2012, I became the first French performer nominated for such a prestigious award in the history of Australia's Performing Arts.
What has been the greatest challenge of your career? 
There always has been many "one greatest challenge"s of my career: to dedicate my life to singing and performing. It takes a lot of courage but every time, it proves to be the right choice.
Once the Edith Piaf series has finished, what is your next project?
After opening night, the Edith Piaf season was extended until the end of December 2013, a request from the Theatre director. I am hoping for a very successful season, which will lead to larger venues in Paris, Piaf's hometown. I am opening the show in London in October 2013 and have an amazing offer from the hottest NYC Cabaret venue (well! for me!) but it's only IN THE CARDS, and Australia and New Zealand in a year, exactly. Piaf is keeping me busy but ….. I am writing my own lyrics and am working on a new Cabaret show, which I am hoping will open at the end of 2014.
What are your goals for future projects or performances?
I am working on a more personal show, with original songs, I am looking at a total change of look and style. I don't think I can say more ….
Which is your favorite show venue in Paris (as a spectator)?
Salle Pleyel for Classical Music.
Olympia for Chanson.
Duc des Lombards for Jazz.
Zénith for Pop, Rock, World Music.
Bercy NO THANK YOU, it's too big (25,000 audience). Not my thing.
For short-term tourists to Paris, if they could attend one cabaret while visiting, which would you recommend?
I would, obviously, recommend that they see my show at the Theatre de l'Essaion!!! Just joking! Having said that, Paris is a big city with vast options. A big Cabaret venue, Le Lido de Paris (where I currently perform 8 nights a month at the moment ….) is quite an experience: feathers, glamour, big show and sound.
Le Cabaret Sauvage at the Parc de la Villette has a lot to offer. If the tourists are short term, though, why can't they come to HYMNE A PIAF at the Essaion Theatre?!!! See I did it again!!!!
***
Click here to visit Caroline's website. Thank you, Caroline, for sharing your story with us!