It's been a little over a year since I  moved from Saint Germain to the Marais. Here is a sampling of my "favorites" so far. I admit they are a bit 4th arrondissement-centric, as that's where I live!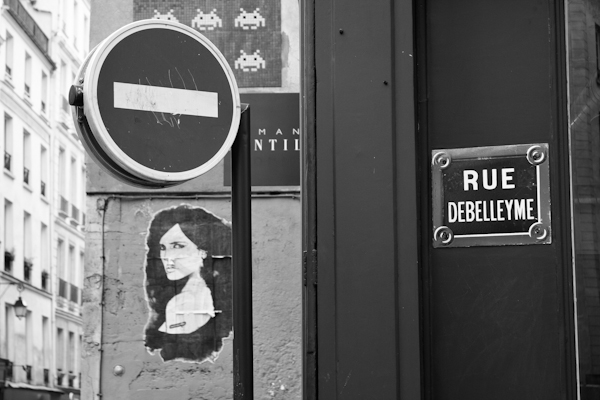 THAI MASSAGE – There's a fantastic Thai massage parlor, Thai Anchalee (1, rue Ferdinand Duval, 4th, Paris, Tel. 09 51 27 19 83) with reasonable prices for the Marais, especially if you purchases several sessions at once.
FAVORITE SHOPS
De Bouche à Oreille (26 rue Roi de Sicile, 4th) for an eclectic mix of home décor and other items
Irena Gregori (1, rue Ferdinand Duval, 4th) for unique clothes, scarves and shoes
Lotta Djossou (also 11 Ferdinand Duval, 4th) or Cecile Jeanne for jewelry (19, rue Ferdinand Duval—corner of rue des Rosiers)
BOULANGERIE (BAKERY) – Murciano (14 rue des Rosiers, 4th) or Aux Désirs de Manon (129, rue Saint-Antoine, 4th)
FROMAGERIE (CHEESE) – Pascal Trotté is my favorite cheese shop in Paris (97 rue Saint Antoine at Place Saint Paul, 4th). Their truffle goat cheese is a must!
CHOCOLATE – Maison Georges Larnicol is a chain from Brittany, but despite being a chain, it doesn't disappoint. There's one on the north side of rue Rivoli (14 rue Rivoli, 4th).
WALKING TOURS – I highly recommend Paris Walks' Marais Circuit 1 and Marais Circuit 2 tours, which leave from Metro Saint Paul.

MARKETS – Marché des Enfants Rouges (3rd) 39 rue de Bretagne. Hours: Tuesday, Wednesday, Thursday: 8:30-1PM and 4PM-7: 30PM. Friday, Saturday- 8h30AM-1PM and 4PM-8PM. Sunday: 8:30AM–2PM The oldest food market in Paris (1615). It's a normal market but also has some great lunch spots (mostly outdoor seating) for a variety of cuisines (Japanese, Carribean, Italian, Middle Eastern, etc.)
RESTAURANTS
French:
Pamela Popo (4th) 15 Rue François Miron, Tel.: 01 42 74 14 65. Open Mon – Thurs 12h–23h, Fri 12h–23h30, Sat 13h–23h30, Sun 13h–23h. Small bar downstairs (open every day 18h – 2h) and restaurant upstairs. Mix of cozy, traditional and a touch of modern. Friendly service, delicious food. The mushroom ravioli with French toast was especially good. Possibly the best café crème I have had in Paris.
Café:
La Favourite (4th) 4, rue de Rivoli, Tel. 01 42 78 56 48. Just a few blocks from the apartment, across from St. Paul metro. It's become one of my go-to places, as the wait staff is friendly, it's a spacious café by Parisian standards, has good food and drinks, and has super fast wifi. They are open 7am – 2am 365 days/year.
Tea/Lunch:
Mariages Frères (4th) 30 Rue du Bourg Tibourg, Tel. 01 42 72 28 11. A bit pricey, but an institution. Famous for the 100s of varieties of tea; the snob salad and tea-infused desserts are great.
Italian:
L'Alimentari (4th) 6 rue des Ecouffes, 75004, Hours: Lunch and dinner, Monday-Saturday; closed Sunday, Tel.  01 42 77 24 59. Cozy atmosphere under centuries-old exposed beams. Fresh and authentic Italian food. The burrata and linguine alle vongole (clams) were especially delicious.
Mexican:
Candelaria (3rd) 52 rue de Saintonge, Tel. 03 42 74 41 28.  This hole-in-the-wall Mexican joint with a trendy New York-style bar hidden through the back door was a wonderful spot until unfortunately it was discovered by the trend-seekers. It's still worth a visit for the cheap tacos or a more expensive cocktail earlier in the week.
Thai:
Au Petit Thai (4th) 4 rue roi de Sicile, Tel. 01 42 72 75 75. In a traditional 17th century house, cozy but at the same time lively atmosphere. The food had more of a kick, more flavor than most Thai restaurants. Excellent wine and cocktail list, friendly neighborhood feel.
American:
Schwartz's Deli (4th) 16 Rue des Ecouffes, Tel. 01 48 87 31 29. Open Tuesday 12h–15h, 19h30-23h. American deli favorites done right: pastrami sandwiches, mac n' cheese, burgers, cheesecake. They don't take reservations.
Moroccan:
Le 404 (3rd), 69 rue des Gravilliers, 75003, Tel: 01 42 71 20 38, M°: Arts et Métiers. Le 404 has become a bit of a scene, but the food is still good and the décor is quite amazing. Just down the street is Andy Wahloo, a great Moroccan-themed, fun but not pretentious bar.
Middle Eastern:
Pitzman (4th) 8 Rue Pavée, Tel. 01 42 71 17 17. Slightly more traditional than L'As du Falafel. Excellent falafel at only €5.50 to go or €6.50 eating in. Various other kosher dishes as well.
Japanese:
Isami (4th) 4, quai d'Orléans (Ile Saint-Louis–OK, not technically the Marais, but close!) Tel. 01 40 46 06 97. Expensive, but the quality and variety of the fish is noticeably better than at the other sushi restaurants. Reservations essential.
Korean:
Maison Marais (4th) 3 Rue Ferdinand Duval, Tel. 01 48 87 28 15. Cozy and friendly. Excellent bibimbap in a warm stone bowl, reasonable prices.
Argentine:
Clasico Argentino – Empanadas & Helado (3rd) 56 rue de Saintonge and other locations, Tel. 01 44 61 00 56. Great for a snack or a light lunch. 
Gelato:
Pozzetto (4th) 39 Rue du Roi de Sicile, Tel.: 01 42 77 08 64. I don't know how it took me so long to try Pozzetto. The selection is smaller than at some other gelato places in Paris, but it's because the gelato is made fresh daily (and the shop is run by real Italians). Pozzetto also has a selection of coffees and a couple of tables for those who want to eat/sip sur place.
Bars:
Le Barav (3rd) 6 Rue Charles-François Dupuis, Tel. 01 48 04 57 59. My favorite new wine bar: run next door to buy a bottle of wine from their shop and for €5 more, they will open the bottle for you in the bar. They serve food as well (including excellent salads).
La Belle Hortense (4th) 31 Rue Vieille du Temple, Tel. 01 48 04 71 60. A small and inviting bookshop/wine bar, the perfect stop for an early evening drink.
***
Which are you favorite spots in the Marais?