Recently, I spoke with Fred Pouillot, founder of Le Foodist, which offers exciting new ways to experience French cuisine hands-on. Here are his insights, amazing story and thoughts on the French culinary experience.
Le Foodist Experiences
Fred, could you tell us about Le Foodist, about the company and about your philosophy?
Le Foodist offers narrative and culinary experiences to help people discover culture through food; that is the basic idea.  When I travel I always try the local food at least once; however it most often leaves me wanting.  Let's say you go to Bangkok.  You go to a Thai restaurant.  You taste Pad Thai.  Great.  Now, do you know whether this is a dish invented 30 years or 1500 years ago?  Do you know if it derives from peasant or imperial cuisine?  Do you know whether it is local to Bangkok or regional?  And do you believe maybe somebody could have explained all this but also – and most importantly – taken the opportunity to explain a little bit about the history, social structure and regional diversity of Thailand?  Well, I think so, I think it's possible to eat a great Pad Thai AND get all these stories at the same time and linked together. So in all our experiences there will be time for stories – and these stories will be about the products but also will illustrate some aspects of French culture.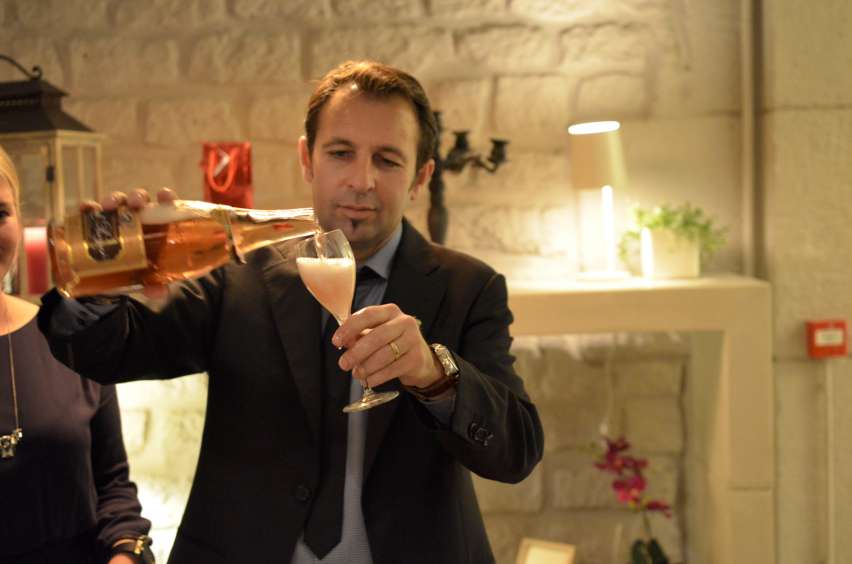 Stephane Bonnerot, sommelier of Le Foodist
Let's take an example: Coq au Vin.  Technically, it is of course a great recipe to learn about classic marinade and braising.  Or it can be revisited and is great for many other techniques.  But there are also stories to be shared from that recipe.  Many people think that the story of Coq au Vin is just about the fact that people used to eat the Coq when it was old and therefore they had to put it in a marinade for a couple of days to tenderize the meat.  OK.  So, that's it; that is the story most chefs will tell you. But I think there is a lot more to that dish. Coq au vin is also the opportunity to explore why the Coq is the unofficial symbol of France and how it relates to the character of the French (in funny ways).  It is an opportunity to discover when the supposedly "gaulish" origins of the French were invented, what diversity means in France, and even who Asterix is!  All these stories – and more – just about a Coq au Vin.  And it would be true of just about any recipe or food experience; because Food is actually connected to everything.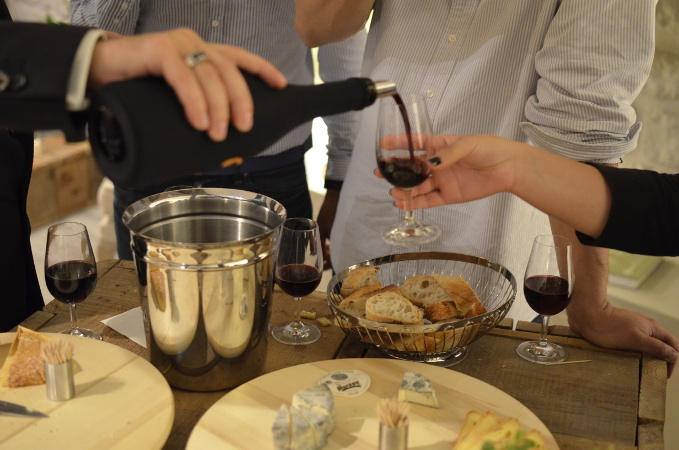 You offer "Once Upon a Table" hosted dinners, Wine & Food Pairings ("Daring Pairings"), "Sweet Stories" (patisserie classes), and market to plate cooking classes. Could you tell us a bit more about each of these experiences?
As you have understood, the philosophy is the same across all experiences.  But the topics we explore vary and the types of experiences as well because food can be enjoyed in so many different ways: shopping, preparing, tasting are all fun to me.  Lunch, Teatime, Dinner are all interesting.  Sweet or savory are all yummy.  Wine is a fantastic world in its own right, but it is even more fun when paired correctly. So about each experience: Once Upon a Table is a 5-course hosted gastronomic dinner with matching wines.  We start with an initiation to wine tasting by a professional and dedicated sommelier, then share a meal with a host who tells stories about each dish in the spirit I explained previously.  There are gastronomic and sensorial games played at the unique table, wines are commented and tips shared by our sommelier, and a nice surprise awaits the guests at the end.  It lasts about 3 hours and you taste great food and learn a ton.  You can come with friends or alone – and then you will make friends.  We accept a maximum of 15 people for this experience.  Menus and stories obviously vary with season and time.
Sweet Stories is a hands-on pâtisserie experience of about 2 hours, followed by 30 minutes of teatime in our beautiful location in the Latin Quarter where stories are shared by a host about some aspects of both French pâtisserie and culture.
Daring Pairings is about Wine and Food pairings.  In those experiences a professional sommelier takes guest down a path of sensorial discovery of 5 wines, with lots of tips and memorable anecdotes so people leave with memories of what they tasted and learned.  Because we believe that by eliciting good emotions (of which humor and surprise are two) during the experiences, we help people remember what they experienced.  It is not a long monologue by some 'expert' about wine which unfortunately is often what wine tasting feels like.  In our experiences, wines are always paired with various foods: always great cheeses, and often other types of products or recipes as well.  It lasts 2 hours and for many is almost a meal – to which you just might need to add a dessert.  Just so you know, we are also developing a Beer and Cheese pairing experience and a Tea and Cheese pairing experience – yes it can work very nicely.
Last but not least, we have our Travel & Chef cooking classes, offered with or without market visit.  The market visit will last slightly over one hour, followed by a two hours cooking class.  Then you eat the appetizer, main dish and dessert you have prepared from scratch (including ice-cream if on the menu) as well as unique cheeses, and will drink white wine and red wine.  And then of course, your host will share stories during the lunch.  The overall experience lasts 4 to 5 1/2 hours depending on whether you do the market visit.  It is a very rich experience.  Menus vary with season.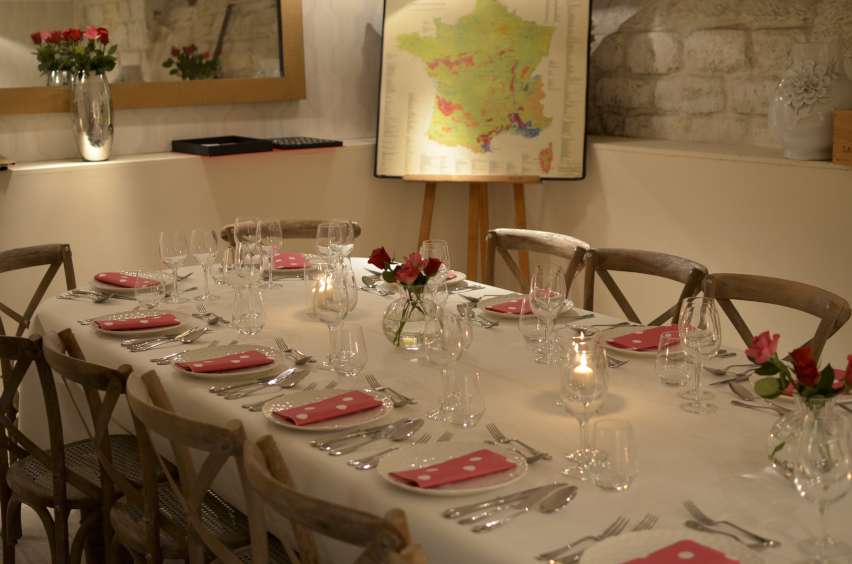 How do I know which experience is the best for me?
You love sweet stuff: Sweet Stories
You love wine (and cheese): Daring Pairings
You love cooking: Travel & Chef
You love it all but you do not necessarily want to cook it: Once Upon a Table
You love it all, including cooking: enjoy several experiences; you won't regret it.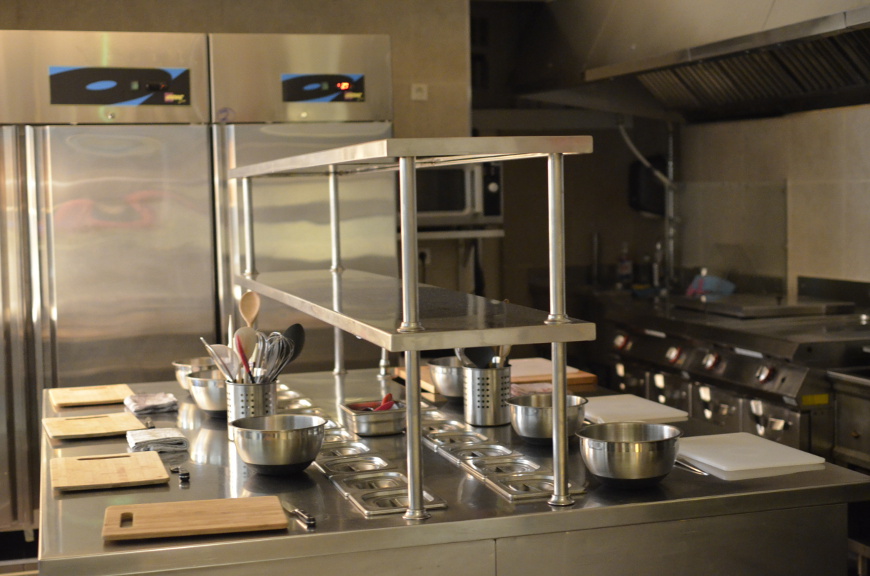 Origins of Le Foodist
What is your background and how did you decide to start Le Foodist?
I am a French chemical engineer who did a Chemical Engineering PhD in the US – that had a huge impact on my outlook on life and my sensitivity to cultural differences.  I also studied a bit of sociology in the US and that was a seed that continuously grew in me.  After this I worked for P&G for 6 years – in Belgium and in Cincinnati.  I could not say we enjoyed Cincinnati, so when they offered me the green card, it was time to go … I then did an MBA at INSEAD and joined another American Corporation, Newell Rubbermaid.  I spent 9 years with them and was a senior executive when the company relocated all senior positions to Geneva for tax reasons.  Amanda (my wife) and I do not have kids and do not particularly enjoy skiing; so Geneva did not sound like a great idea.  And I had been thinking about Le Foodist for about 15 years.  So it was then or never. To transition, I went to train as a professional chef at Alain Ducasse Formation training center in Argenteuil and did a short practical training chez Lasserre with Christophe Moret.  I also did a bachelor with Université de Reims in High Studies of Taste (Hautes Etudes du Goût).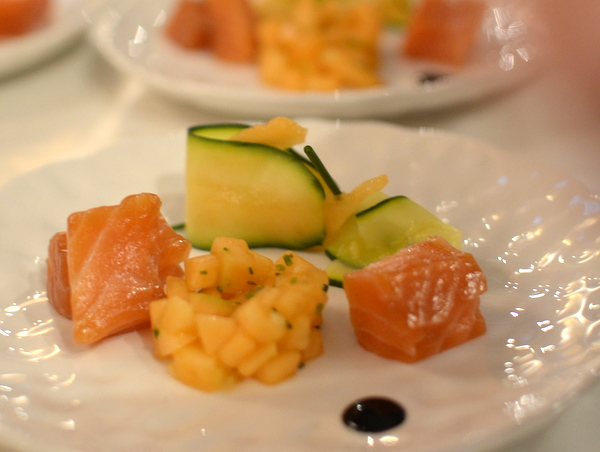 After all of your world travels, what is it that drew you back to Paris?
Sheer luck; when I joined my last company it was in the Netherlands.  But they shut down their office there about 6 months later and moved the 50% people they did not fire to Paris.  Interestingly, as a "true" French – understand one who comes from where 80% of the French live: Province – I never wanted to live in Paris area when I was growing up.  But I love it now.
How did you decide to start your own business?
Believe it or not, I had the idea of cooking holidays for American traveling to France back in …1995 – when I left Atlanta.  I had the idea of cooking classes for people going through Paris in 2002 when I did my MBA; my professors thought it was not a great idea (one should never not listen to business professors).  At the time I believe only one person (I think her name is Françoise Meunier) was doing this as a lifestyle venture; and I believe she sold it to a French chef who is still running that business.  I saw Atelier des Chefs open and grow to an €11m business, I saw Atelier des Sens trying to copy them, I heard of Cook'n with Class emerging several years ago, and then La Cuisine Paris following them about one year before I started working on the project.  And I thought nobody is actually doing what I want to do the way I want to do it: help people discover culture through food by providing narrative and culinary experiences.  And I just couldn't go to my grave without having a go at this.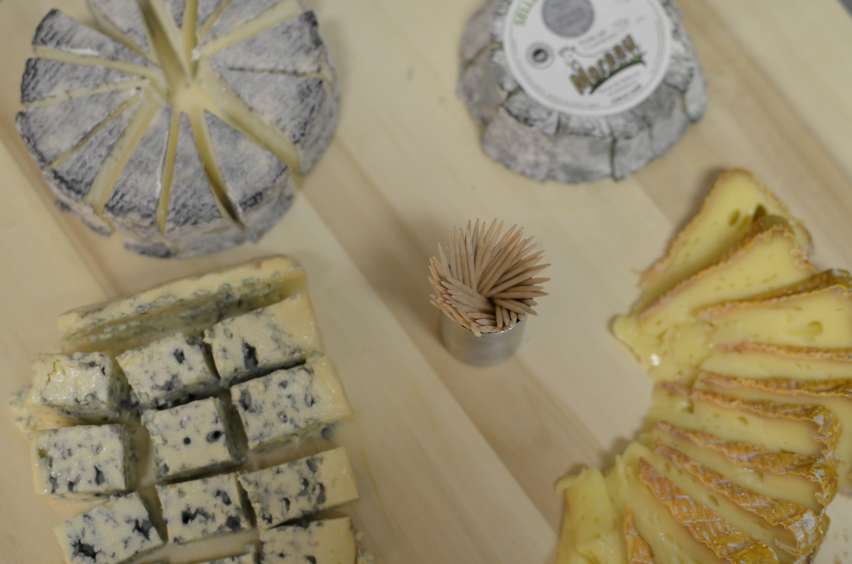 Did you encounter any difficulties in starting your own business in France?
Are you kidding?
What do you enjoy most about your work?
I enjoy the fact that the main focus of the business is about Food and Culture, my true passion.  I love meeting and sharing time, food and stories with our customers who come from all over the world.  I also relish the diversity of the challenges of being a start-up in France.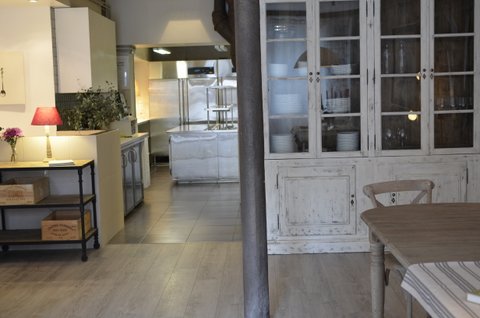 Logistics  Are classes in English, French or both?
By default, classes are in English; we are developing a program of classes in French now and we also do Corporate events for up to 50 people which are offered both in French or in English.
Where are your events held?
Events are held at our Latin Quarter location: 59 rue Cardinal Lemoine in the fifth arrondissement, about 4 minutes from Le Panthéon and La Sorbonne et 7 minutes from Notre Dame.  Metro Stop: Cardinal Lemoine (50 meters away).  Upon special request, we can also hold our gastronomic dinners on a barge just below Notre Dame.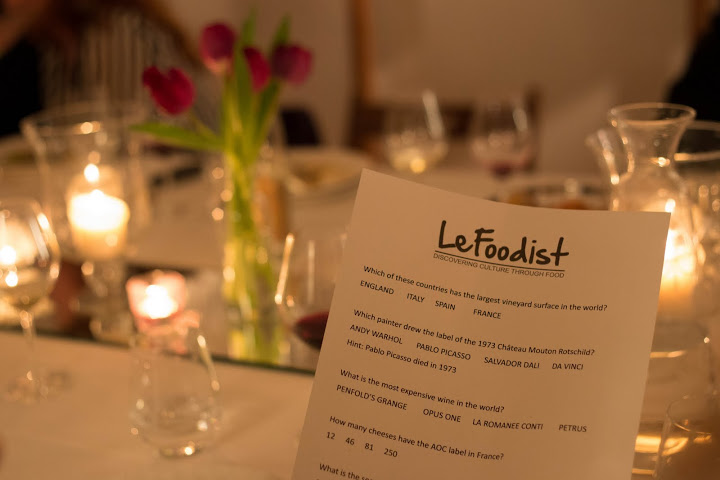 How do I reserve? How far in advance must I generally reserve?
You can book on-line on our website; if you have special requests or dates which fall out of our schedule we are open to queries, just send us an email at contact@lefoodist.com.
Would you recommend one of the classes or dinners if I am only visiting Paris for a short time?
Most definitely.  I created this specifically for people who want to have an experience which brings food and culture together while traveling, and I believe this is what any person visiting Paris actually wants, whether they are here for a short or a long time.
Paris
Do you have a favorite restaurant in Paris?
I am not a 'favorite' kind of guy; I like things for what they are which means there are lots of places I like.  I would however recommend Chez Lasserre on the high end of the market, as well as Kitchen Gallery and Le Chateaubriand.  If you go to Lasserre you have to have dessert.  Claire Heitzler is the chef Pâtissière there and what she does is just amazing.  As far as Bistrots are concerned I believe Beurre Noisette close to Porte de Versailles is the best value in Paris, and I really like l'Epi Dupin of François Pasteau as well.  I managed to get a seat at Frenchie many years ago, and it was refreshing for Paris then; don't know what it is now.   I was very disappointed by Pierre Gagnaire's restaurant.  I remember what I paid, but I do not remember what I ate … I enjoyed discovering Richer by chance; but when they opened you could not book in advance which made it very risky to just go there randomly. Maybe more important, when I do not know where to go, I go to www.lefooding.com which I think is just a great resource for restaurants in Paris;  I think they redefined food guides, and I love their 'Trop Bon' criteria.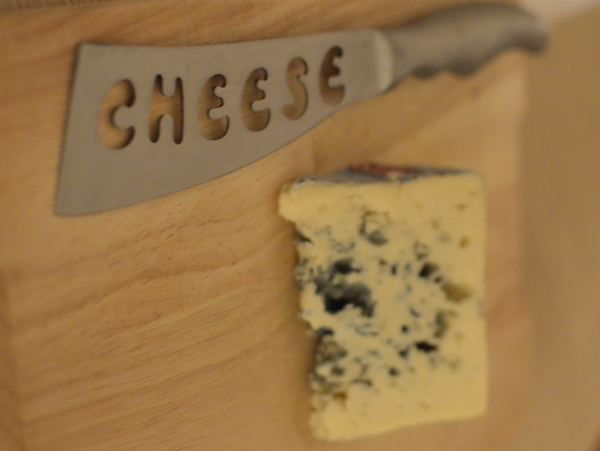 A favorite market?
I actually really like the market Place Monge because I can find products there which I have never seen anywhere else; but you will have to come with me for me to let you know what they are 🙂 I also like the markets close to where I live in the North-North-West suburb of Paris, close to Enghien-les-Bains.
Coming Up…
What are your goals for future projects for Le Foodist?
There are actually two types of projects we are working on: new types of experiences and more definition in the type of experiences we already offer. For the types of experiences we already offer, we would like people who live in Paris for at least one year to have an opportunity to learn a lot about French food, wine and culture without having to spend ridiculous amounts of money or make a full time commitment to a 'professional program'. So we are designing our cooking classes (Travel & Chef) in such a way that when attending 18 courses offered every other week, somebody would learn 90% of the techniques required for a professional chef certification in France (CAP).  In practice it means 6 courses focused on Techniques (think sauces or knife skills), 6 classes focused on Regional Cooking (think Bouillabaisse) and 6 courses focused on gastronomic cooking.  That part is easy.  The challenge is to offer theses classes with the same promise as a Travel & Chef experience: appetizer, main, dessert and stories at the table, so that people can take only one class if they wish or all of them.  We are getting there. We are also designing our wine & food classes (Daring Pairings) so that similarly by taking 18 courses offered also every other week, somebody can learn about every major region of France (Burgundy, Loire, Rhône, Champagne, Bordeaux, Alsace), every major grape around the world (Cabernet, Merlot, Sauvignon Blanc, Chardonnay, Syrah, Pinot Noir) and explore wine differently (make your own wine, blind tasting, discover your senses through wine, etc…).  To my knowledge this is very unique in Paris.  We are 80% done and this will be just fantastic I think. We are also looking into expanding to Food Tours in Paris; there are a lot of Food Tours out there, but the feedback I see on Tripadvisor varies greatly.  And our customers also tell us that there are opportunities for improvement in that category.  We have all the competences in house to do this, it is a just a matter of finding the time. Over the long term, I hope one day we will be able to offer narrative and culinary experiences to French people so they can discovery foreign cultures through their foods while still in France – I am not sure the French are quite ready for that though.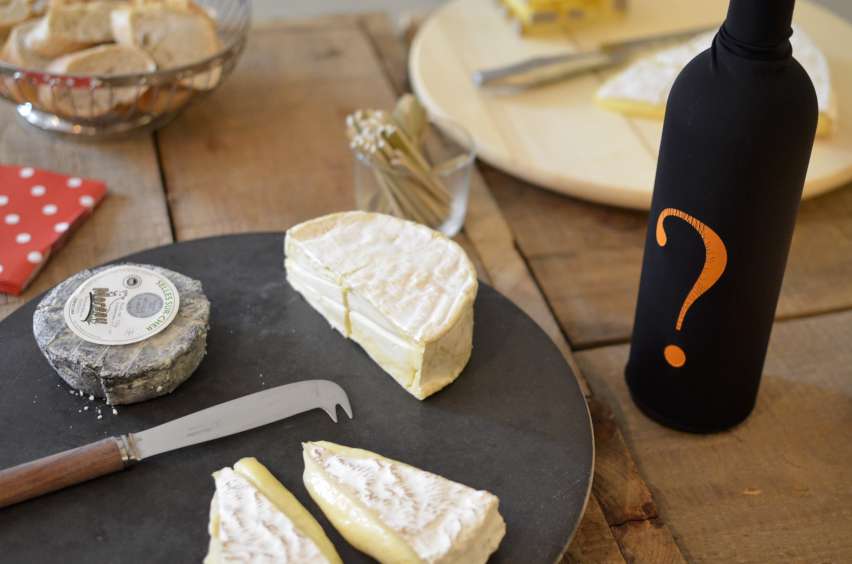 ***
Merci beaucoup, Fred!!