Every November is Mois de la Photo in Paris (Paris Photo Month). This year, the Yousuf Karsh exhibit at the Mona Bismarck American Center for Art & Culture was top of my list.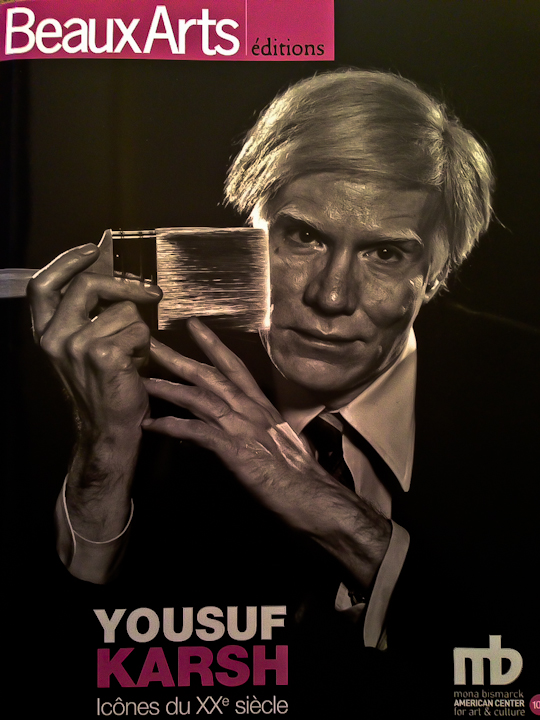 The Mona Bismarck Center aims to "enable the discovery of the richness and diversity of American art and culture through innovative exhibitions, educational and outreach programs and events." The Mona Bismarck Foundation started in 1986, when American-born philanthropist and Countess (through marriage to the grandson of Otto von Bismarck) Mona Bismarck died, leaving her 16th arrondissement mansion and much of her estate to the cause of "fostering French-American friendship and understanding through art and culture". The Center as we know it today opened in 2011 and continues with this same mission.
Yousuf Karsh (1908-2002) was born to Armenian parents in present-day Turkey to and fled to Canada at the age of 16. At 20, he moved to Boston to apprentice with portrait photographer John Garo. While Karsh spent most of his adult life in Ottowa, he returned to Boston in the late 1990s, where he died in 2002.
The Yousuf Karsh exhibit, entitled "Icons of the 20th Century" includes expressive images of some of the most famous and iconic personalities of the 20th century, in France, the U.S. and beyond: Ernest Hemingway, Andy Warhol, Harry S Truman, Charles de Gaulle, Grace Kelly, John F. Kennedy, Christian Dior, Man Ray, Hillary & Bill Clinton….
The exhibit of over 70 black-and-white photographs will run through January 26, 2014. I highly recommend seeing it in these final 5 weeks!
Mona Bismarck American Center for art & culture
34, avenue de New-York | Paris | 75116 | France
Open Wednesdays to Sundays, 11 AM to 6 PM, closed on holidays