In November, we spent a fabulous weekend at Chalet L'Orignal in Chamonix. No, not "Chalet L'Original" — it's not a typo. An orignal is a moose, a head of which greets you as you enter.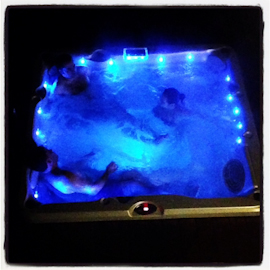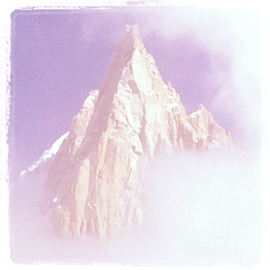 The chalet's jacuzzi and the iconic Aiguille du Midi
Chamonix is small city about an hour southeast of Geneva at the foot of Mont Blanc, the tallest mountain in France, the Alps and the entire European Union. Rising 4,810 meters (15,781 feet) above sea level, the peak is just visible from the addictive outdoor jacuzzi at L'Orignal.
I cannot recommend this chalet more highly for a large family or group of friends. All seven bedrooms have en suite bathrooms and beds that can form a queen or two single beds. Each bedroom is charming and more or less equally pleasant, so there are no fights over who gets the best room. About 30 feet across the terrace is a studio that sleeps 4 additional guests if need be, so the property sleeps 18 in all. The open kitchen/dining room/living room is spacious yet cozy.
Everything is high tech. This 19th century farmhouse has been completely renovated with modern amenities: kitchen appliances, a fancy coffee maker, a stereo and TV system, sauna, jacuzzi….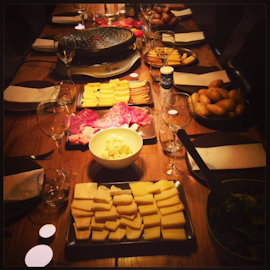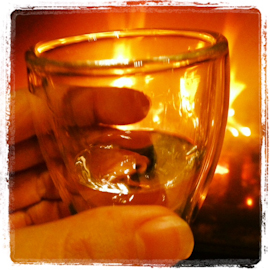 Our raclette dinner at the chalet and a digestif handcrafted by my friend's grandfather in the 1960s!
You could easily spend the whole time indoors. We actually hoped for one day of bad weather so we would have an excuse to do so. But the chalet is also located just a 5 or 10 minutes' walk from the pedestrian center of Chamonix. In about 15 minutes, you can walk to the train that takes you up to Aiguille du Midi–a trip well worth it for those who like heights! There is really no need to move your car during your stay if you plan to stick to the local area.
A week at the chalet can be quiet expensive in ski season, but off season the rates are astonishingly reasonable if you have a large group. May 10-May 30, for example, will run you 2000 euros, or 111 euros per person with a full house. We were 16 people and did not feel crowded at all. We cooked most of our meals in, making it one of the least expensive weekend trips I have taken in ages! The kitchen is stocked with all the utensils and appliances you might need. And we even discovered that the local grocery stores will lend you a raclette machine for free if you buy cheese from them!
Take a look at the complete description of the property and photos on the property's website.
My deepest thanks to Damien for organizing this marvelous weekend and to Olivier for having a birthday that gave us the excuse to celebrate at the Moose Chalet!