Belle-Île-en-Mer lies 14 kilometers from Quiberon, off the coast of the Morbihan, and  at approximately 17 kilometers by 9 kilometers, it is the largest island of Brittany's islands. Belle-Île, as it's called for short, has only about 5,000 year-round residents, but up to 35,000 in July and August.
We spent one night and two days on the island this past June. June was a perfect time to visit as we hit good weather before the tourist season kicked in.
We parked in Quiberon and caught the 9:30am ferry from Quiberon (about €17 per person each way). Note that overnight parking in Quiberon by the ferry terminal is basically non-existent, so be sure to park at one of the satellite lots on your way into town and leave a bit of extra time to catch one of the free shuttles from the lot to the terminal. We parked at the Semaphore lot.
Upon arrival in the port of Le Palais around 10:15am, we checked into our hotel, just a 5 minutes' walk away:
Hotel Le Saint Amant
14 avenue Carnot – 56360 LE PALAIS
Tél. 02 97 31 36 71 – contact@le-saint-amant.com
At €67, the Hotel Le Saint Amant was cheaper than the bulk of the other hotel we looked at and yet it was perfectly comfortable and central and our room was quiet and spacious. I would highly recommend it.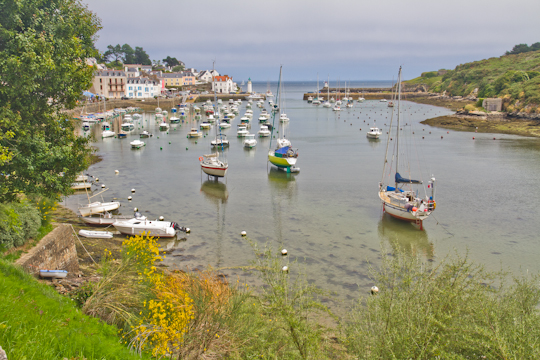 Sauzon
Wanting to maximize our short time on the island, we decided to tour by bus on Day 1 and by foot on Day 2. Certainly exploring by bike would be another great option if you have a bit more time.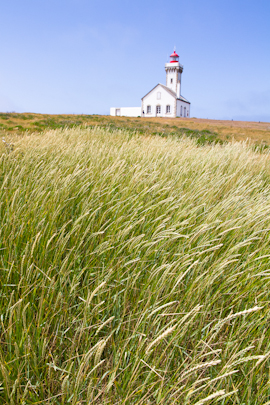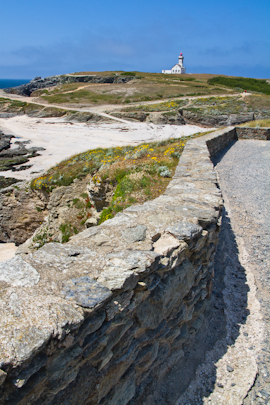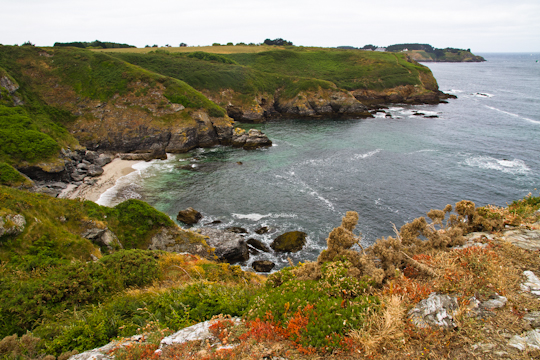 Phare des Poulains and the northern coast of Belle-Île
For bus tours of the island, you can sign up in advance or on the day of with Les Cars Bleus or Les Cars Verts. Both are pretty much the same. An advantage to signing up in advance, if you don't mind missing out on a bit of down time right off the ferry, is that the minibuses will pick you and your luggage up straight from the ferry. This way, you can do a full day bus tour on the day of arrival. The downside is that at the end of the day, you and your luggage will be dropped off at the bus station at the top of the hill overlooking Le Palais and you'll need to make your way down to the hotel.
You can also sign up for just the half-day bus tour, which is what we did. We missed seeing the town of Locmaria, but we still caught the main highlights of the island: Port-Goulphar and Les aiguilles de Port-Coton (Monet's famous sea stacks), the colorful town of Sauzon (where you have time for lunch), La grotte de l'Apothicairerie (the entrance to a famous cave in the cliffside) and the Pointe and Phare (lighthouse) des Poulains, long-time home to actress Sarah Bernhardt (1844-1923).
In the evening, we had a wonderful dinner in the little courtyard of Au Jardin du Port, a tea room and restaurant just a minute or two up the hill from our hotel and a bit off the main tourist route:
Au Jardin du Port
6 rue Willaumez
56360 Le Palais
Tel/Fax 02 97 31 51 09
Mobile 06 29 88 61 87
E-mail aujardinduport@orange.fr
 On Day 2, we took a local bus from the bus station overlooking Le Palais back to the town of Sauzon. From there, we hiked approximately 13 kilometers along the northern coast of the island back to Le Palais. It was a rigorous hike (by Brittany standards at least), with quite a few uphills and downhills along the route. But it was spectacular scenery that you can't see without getting out on the trail: deserted inlets, dense vegetation, turquoise coves….
Our hike ended at the Citadelle Vauban of Le Palais, then we wound our way back down to the hotel. We had just enough time for a quick snack and drink, then caught the 6:20pm ferry from Le Palais back to Quiberon.
Belle-Île-en-Mer could be done as a long day trip, but if you have the chance I would definitely recommend spending at least one night, more if you can. I hope to return one day soon and hike the full 100 kilometers of coastline.