A few weeks ago, I had the pleasure of taking an Eye Prefer Paris tour of the Marais with fellow Marais resident Richard Nahem. I had taken Paris Walks' Marais walking tour and I've lived in the Marais for the last two years. So I wasn't expecting to learn a whole lot that I didn't already know. But I was wrong about that!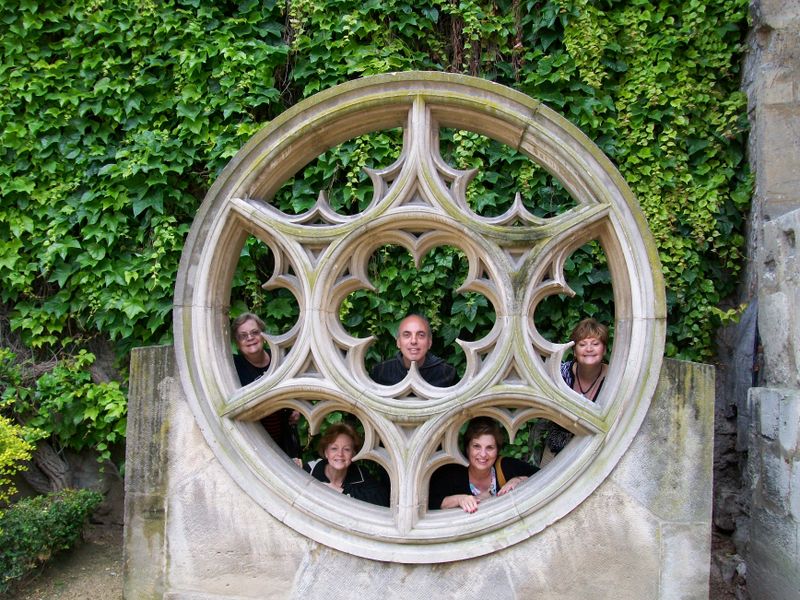 Richard (center) on one of his tours
Richard's tours are more than just walking tours. For about three hours, you are accompanied through the neighborhood by a knowledgeable insider, a native New Yorker yet long-time Marais resident, and–by the end of your time together–a friend. You won't feel "led"; Richard has a way of making you feel as though you're discovering things on your own. He gives you the perfect mix of history, cultural tidbits and practical information such as where to find the best baguettes, the best chocolate, the best hot chocolate, the best artisan shops, the best spice market, the best restaurants….I discovered a few gems just steps from my front door that I never knew were there!
Whether you think you know the Marais like a pro already or it's your first time in Paris, I whole-heartedly recommend (re-)discovering the neighborhood with Richard. And especially for visitors staying in the Marais (in my apartment, for example), I strongly recommend booking Richard's tour for your first day if possible. Not only will you learn about one of Paris's most historic and fascinating neighborhoods, you'll also learn about your neighborhood! But you don't have to take my word for it. Richard has received rave reviews on TripAdvisor from nearly 300 visitors thus far.
Richard offers private tours of the Marais lasting 3 hours or 7 hours. He also offers Cooking Classes, Gourmet & Food Market Tours, Shopping & Flea Market Tours, Chocolate & Pastry Tours, Girlfriend Tours, Gay Tours, and Museum Tours.
More information on Richard's tours, including pricing and contact details, see below. And for a sneak preview of the Marais tour, watch this video (credit goes to Michael House)!
Richard Nahem
More information on the tours: http://www.eyepreferparistours.com
Richard's blog: http://www.ipreferparis.net
Twitter: http://twitter.com/eyepreferparis
Facebook: https://www.facebook.com/pages/Eye-Prefer-Paris/149370348123
Instagram: http://instagram.com/eyepreferparis