Tips for Train Travel in Europe
Travel by train is my favorite type of travel in Europe. The trains are generally on time, very organized, clean and comfortable.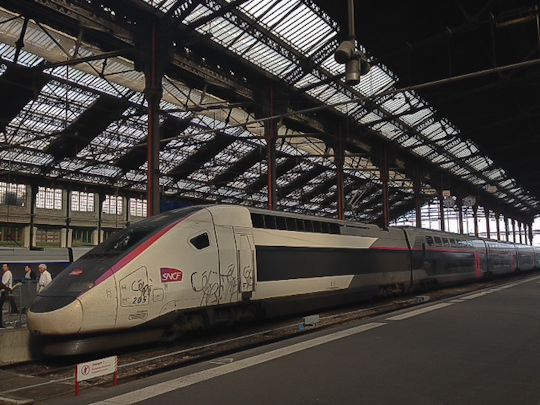 Gare de Lyon, Paris
Compared to air travel, you do not have luggage and carry-on restrictions and you do not have to arrive in advance for security (unless traveling on the Eurostar to/from London). You avoid traffic getting in and out of cities and you can often arrive in half the time you in which would arrive by car. Often, you save money even compared to car travel. The cost of renting a car aside, gas and tolls are much more expensive in France than in the U.S., for example.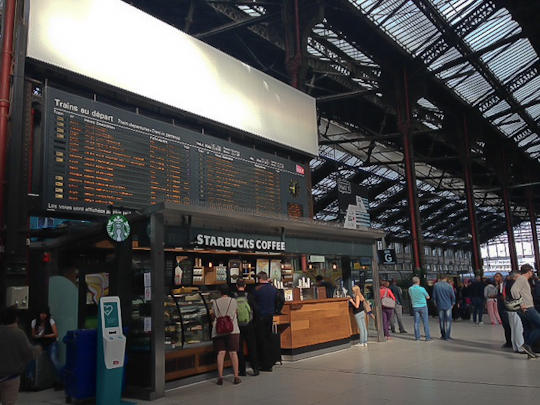 Train Departures Board at Gare de Lyon, Paris
I travel very often between Paris and Auray, in Brittany. It's about 3h22 by train and 4h15 by car. So when you add in travel time to and from the train station, the length of the trip is about the same. But it comes to about 70 euros for gas and tolls to take the train and I can often find train tickets for as low as 25 or 35 euros. There are just a couple of hitches. First, if you are planning to rent a car when you arrive, it can often be more expensive than renting a car in Paris. Second, if arriving in a smaller city, be sure to check that the car rental agency will still be open when you arrive, and factor in a bit of extra time just in case the train is delayed.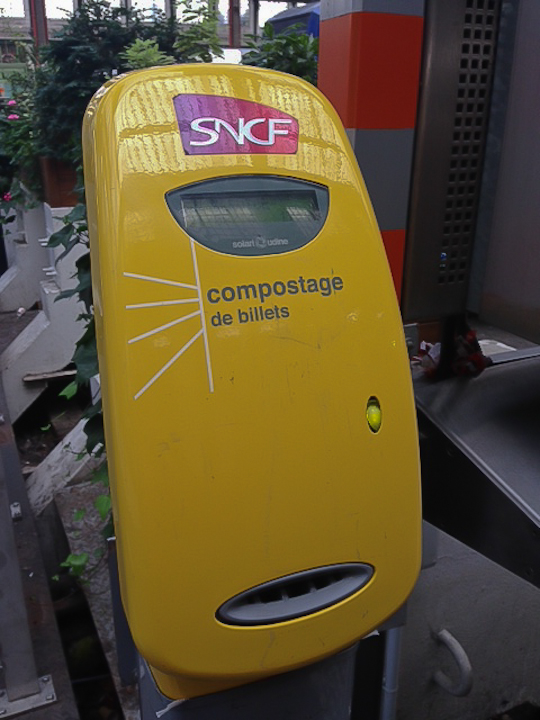 Ticket validation machine
Despite the ease of train travel in Europe, there are a few factors you must keep in mind, to avoid annoyances or worse:
Many trains are by reservation only. Be sure to check in advance if you can or are required to reserve a ticket in advance. Even so, if the train still has seats, you can usually buy the ticket at the departing train station when you arrive for your trip. But don't wait until you board the train or you risk being fined.
Sometimes you get better deals by buying your train tickets in advance, especially if you are looking to travel on holiday weekends. You can usually purchase tickets up to 3 months ahead of time.
When you have a specific seat reserved, be sure to sit in it! Some trains will split into two part-way along the journey. For example, a train from Paris to Amsterdam may see some train cars split off at Brussels and head towards Cologne. If you're trying to get to Amsterdam, you don't want to be in the train cars going to Germany. (And speaking of Brussels, don't be confused by the station names–Zuid and Gare du Midi are the same station!)
If you do not have a reserved seat, you will likely need to composter or validate your ticket before boarding the train so the conductor will not think you are trying to use the same ticket for multiple voyages. Look for yellow "Compostez vos billets" machines at the entrance to or on the train platform.
If you are not at a terminus station, i.e. the train is not starting at your stop but rather will just be passing through, you may only have a minute or so (usually 5 minutes at the most) to board the train once the train arrives. In this case, it's important to be waiting at the right spot on the platform. Look for signs for "Composition des trains" along the platform. The Composition des trains electronic panel will tell you which train cars line up with which points on the platform, so you should be able to stand within 10 feet or so of the door for your car.

If you travel by train in France often, download the Voyages-sncf app. It allows you to e-download most tickets via the app so you don't need to print them out.
Do you have any additional tips for making train travel more hassle-free?
Comments
comments