Champagne is known for its champagne, of course, but it is also home to fine dining and beautiful countryside, and yet only about an hour's drive from Paris.
I always thought of Champagne as quite flat, but actually the countryside where the champagne grapes are grown is fairly hilly. In fact, the vines grow on the south side of slopes, finding just the right angle to the sun for the perfect viticultural product.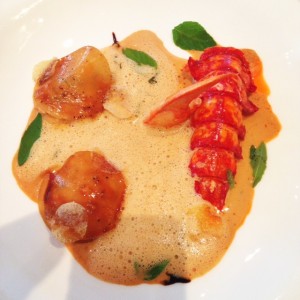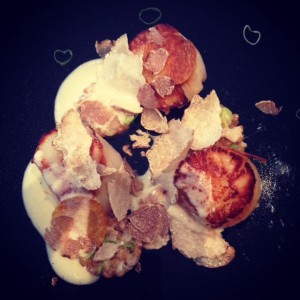 My 3-course meal at l'Assiette Champenoise: Homard bleu, Scallops (above) and Tarte Tatin (below)
In late October, I was lucky enough to visit the region with a couple of locals. We started the weekend on a real high note–at what is possibly the best restaurant in the region, one of the finest restaurants in France, the 3-Michelin star Assiette Champenoise. The food and the whole experience were amazing. Luckily, I didn't find out how much the meal cost until months later (175 euros for the lunch menu)!
Assiette Champenoise
40, avenue Paul-Vaillant-Couturier
51430 Tinqueux
We stayed overnight in Reims, the largest city in the Champagne region, and explored the city in the evening. The cathedral of Reims, completed in 1275, is where the kings of France were traditionally coronated through the early 19th century.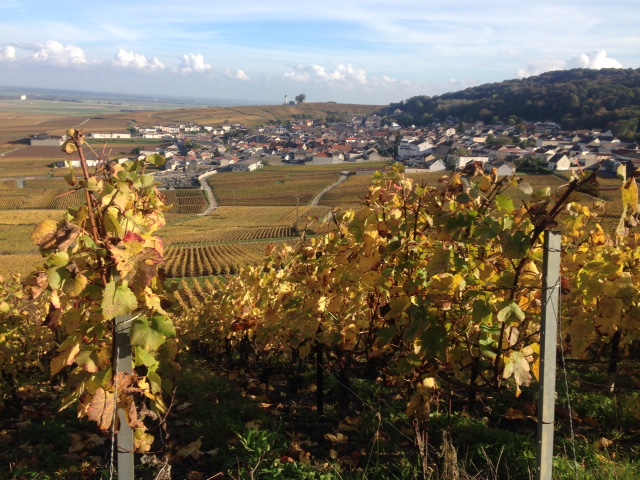 Along the Route de Champagne
We had the perfect balance of champagne tasting. We spent Saturday afternoon at Ruinart, a high end brand known worldwide. It is the oldest champagne house, founded in 1729. To visit the Ruinart cellars, you must book well in advance. The tour takes about two hours and includes a tasting at the end (two coupes), for 70 euros. The cellars are geologically impressive and the tour is very informative. It isn't cheap, but it's worth it.
Ruinart
4 rue des Crayeres
51100 Reims
Sunday, we followed one of the champagne trails between Reims and Épernay and explored small town, family-run vineyards. I had the privilege of visiting (and tasting!) the family-run champagne vineyard of Ridoux-Cousin in the town of Venteuil-Arty, where my friend had worked the harvest several years back in college. Their champagne is delicious–I bought a case!
There are several "routes de champagne," labeled with brown signs so they are easy to follow in your car. We took the route touristique de la Montagne de Reims (about 70km), which I would highly recommend.
Do you have a favorite champagne vineyard to visit?