Every summer since 2002, Paris closes off sections of its quais to traffic and transforms the riverbank along the Seine into "Paris Beach". Paris Plage started up again this weekend (July 19th) and will run through August 17th.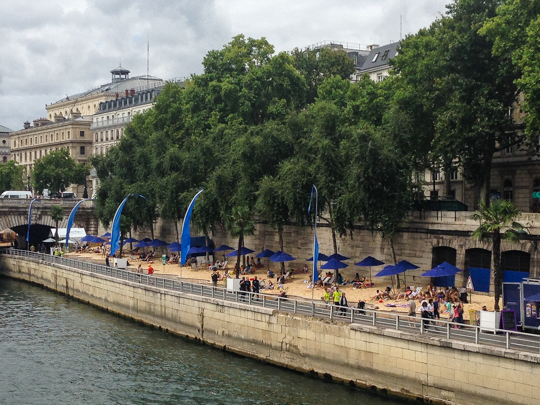 Paris Plage runs roughly from the Louvre to the Pont de Sully, about 2 kilometers east. There is also an official Paris Plage in the 19th arrondissement, at the Bassin de la Villette.
As always, the creators of Paris Plage have imported sand to create actual beaches–well, I wouldn't recommend jumping in the water, but it's good for sun-bathing and building sand castles! There are also spots to grab a drink or a bite to eat, listen to music, play beach volleyball or just grab a seat and relax. The Bassin de la Villette is even offering an aquagym and kayaking this year.
My recommendation is to avoid Paris Plage mid-day on the weekends, but it's a nice little escape at less peak hours.