Linda Hervieux, a fellow American living in Paris, journalist and photographer, recently finished her impressive first book, Forgotten: The Untold Story of D Day's Black Heroes, at Home and At War.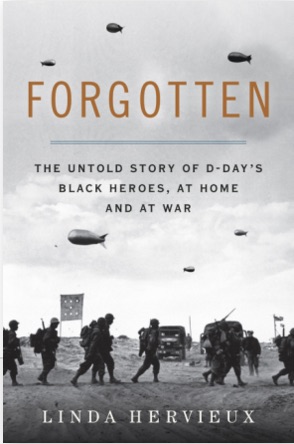 Not many first-time authors are told their work is "utterly compelling" by Tom Brokaw. Congratulations, Linda!
This is not a book review. That's to come soon! I have not finished the book yet for the simple reason that I could not bring it home over the holidays or it would spoil the surprise, as I was giving signed copies to my family as Christmas presents!
I did, however, hear Linda speak about the book and her journey in writing it at the Overseas Press Club in New York, and it was an exceptional talk. My family also went to hear her speak in Linda's native Lowell, Massachusetts, and said she was "fantastic".
And now those of you in Paris will have the chance to hear Linda speak at the American Library at 7:30 p.m. on February 2, 2016! Admission is free!
The American Library in Paris
10, rue du Général Camou
75007 Paris
You can also purchase books at the event for signing. (If you are in Paris and you are are not already familiar with the American Library, you should be–they host wonderful events! See my post on the library and its events from a few years back.)
For those of you in the U.S., Linda is also hosting a number of events during the month of February, in celebration of Black History Month, where she will discuss the book and the black soldiers' experiences. See the events calendar here.
Below is a fuller description of the book in Linda's own words. Stay tuned for my book review of Forgotten, coming soon!
***
Forgotten: The Untold Story of D Day's Black Heroes, at Home and At War (Harper USA, October 2015) tells the story of the only combat unit of African Americans to land in Normandy on June 6, 1944. They were part of a segregated Army that considered them second-class soldiers, and even lesser men. It is the story of this battalion's journeythrough Jim Crow America, to unexpected freedom in Great Britain and, finally, to war. History has neglected these men: D-Day movies do not show them and most history books do not mention them.
You can see a short video trailer here.
Reviews of the book have been (thankfully) great. "Long overdue," said Kirkus Reviews."Compelling," said the Washington Post, though Tom Brokaw called it "utterly compelling." Historian Douglas Brinkley wrote: "All Americans should read this World War II history, which doubles as a civil rights primer, to learn the true cost of freedom."
And from our own John G. Morris, Paris expat and LIFE's London picture editor during the war: "FORGOTTEN is a forceful indictment of America's shameful record of racism, which at last shows some signs of being confronted in America under a black President. Let us hope."