On Saturday, I went back to the Versailles Fountain show, for the first time since 2012. It's a spectacular way to see the palace and its gardens. Be sure to take a look at my post from 2012 for a full description.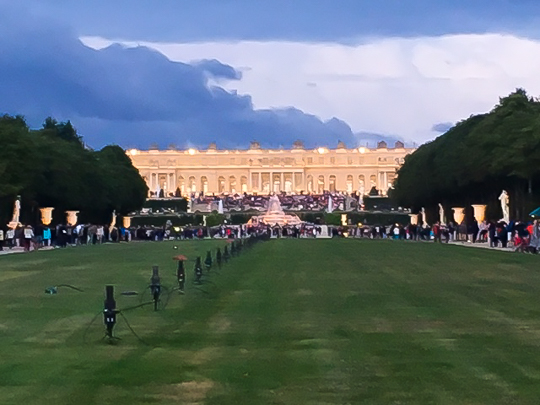 I am including just a few additional notes below that may be helpful:
There are options for purchasing food and drinks in the gardens, but the lines can be long. Best to buy food early on (and also use the toilets early on!) before the lines get too bad.
You can purchase a combined ticket to also have a shortened tour of the palace, including the Hall of Mirrors, for about 45 minutes before the fountains show. If you are OK with the abbreviated tour, it's a nice way to see Versailles without spending the whole day there and waiting on long lines.
The map they give you when you enter the gardens has asterisks showing you the "don't miss" fountains. These really are the nicest ones. If you want to keep your walking to a minimum, just plan on visiting these five or so fountains.
Definitely don't leave before the fireworks display. It's impressive.
If you don't want to deal with navigating the trains home to Paris after, we ordered an Uber pool and made it back to the Marais for 29 EUR (2 people).
Enjoy!