Earlier this month, I made another trip back to the U.S. What else are you going to do with two Tuesday holidays in a row?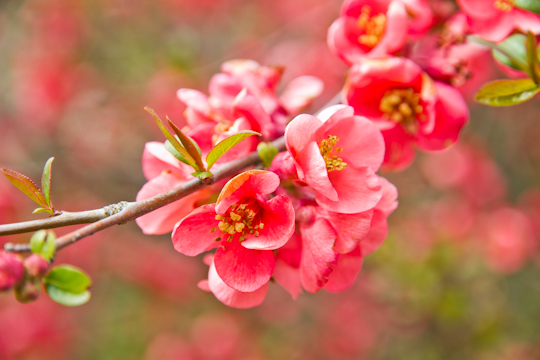 Spring comes to Boothbay Harbor, Maine
Between weekends in New York and Boston, I spent five days in Boothbay Harbor, Maine. This small coastal town is where I have my vacation rental, but it is also a sort of second hometown for me and the destination of my very first vacation, at age three weeks.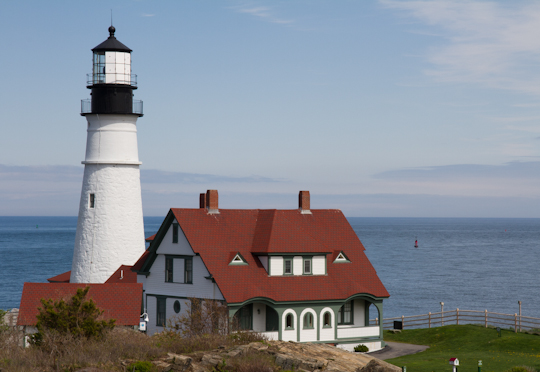 Portland Head Light, Cape Elizabeth, Maine

In January, I posted a list of my restaurant picks for New York and Boston. Below are a few more discoveries to add to that list, along with some photos from my time in Maine.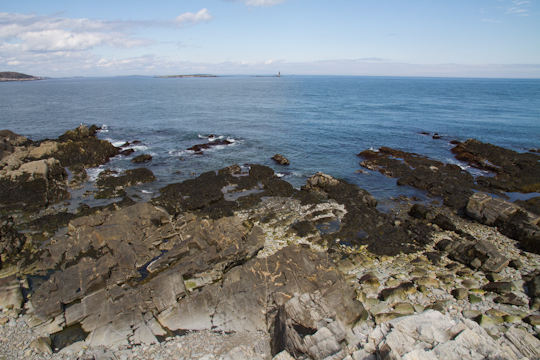 Near Portland Head Light, Cape Elizabeth, Maine
New York
Bocca de Bacco, 828 9th Ave (between 54th & 55th), Tel. 212-265-8828. This Italian restaurant and wine bar has superb food at reasonable prices. The room is spacious but the nouveau-rustic decor makes it quite inviting. I had a special – linguine with tomato sauce and burrata on top. Why did I never think of that? It was out of this world. And the Nero d'Avola (Sicilian) wine was some of the best I've ever had. (I'm always a fan of the deep, round Nero d'Avolas.)
The Grey Dog, 242 West 16th St. (between 7th & 8th Ave), Tel. 212-229-2345 (and several other locations as well). A great coffee shop, as I mentioned back in January. But this time I tried the lunch food as well and it was even better than expected. I had the "#6 Grilled Chicken Press with Fresh Mozzarella, Pesto & Roasted Tomato" and I am sure I'll get it again the next time too! They don't take reservations and the line can be long, but they are amazingly organized about finding tables for everyone, so don't despair. You won't have to wait long.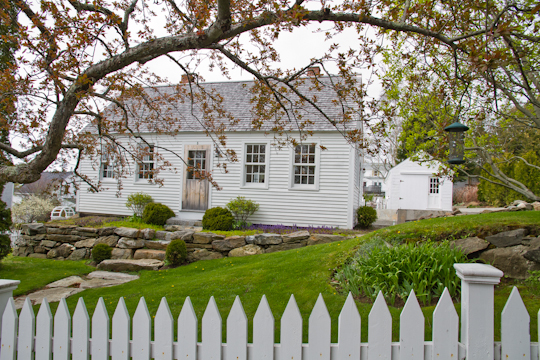 Classic New England architecture in Boothbay Harbor, Maine

Boston
Sonsie, 327 Newbury Street, Boston 02115, Tel. 617-351-2500. Sonsie deems itself an "eclectic bistro", but I would characterize it as primarily modern American cuisine, which was just fine by me, having flown in from Paris!  Their Boston clam chowder is excellent and the brick oven pizzas are made of the freshest ingredients. They also offer salads, sandwiches, pastas and an array of main courses at dinner time.
Bondir, 279A Broadway, Cambridge,  MA 02139, Tel. 617-661 0009. Bondir deems itself a "cozy, farm-house style restaurant" serving "sustainable modern American cuisine". The ingredients are incredibly fresh and almost entirely locally-sourced. The servers are very knowledgeable about the menu, which changes daily, and seem to take much pride in the restaurant's "fresh & local" mission. All dishes are available in small (appetizer) or large (main dish) size. I chose three small plates and a dessert and they were all sumptuous! A dinner at Bondir is a splurge (I would budget nearly $100 per person after tax and tip) but it's well worth it for a special occasion.
***
Do you have any New York or Boston favorites?