My sixth post in this series on Buying Property in Paris is about managing the renovations process. All of the photos were taken on June 24th, three to four weeks into the renovation process.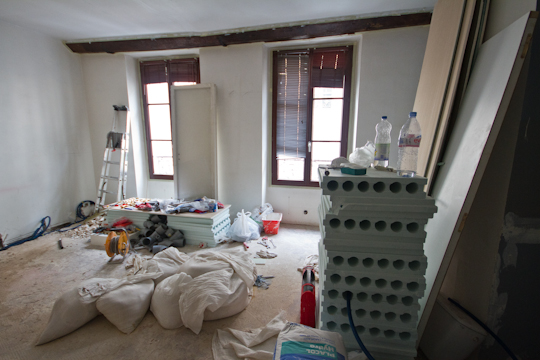 Before reading this, I invite you to read about my thoughts and experiences on pre-search preparations, the apartment search, signing the purchase agreement, planning for renovations and the closing.
The AngloInfo France site also has some helpful tips and vocabulary words to assist you in your renovation project.
These are my personal experiences with the property market and renovating in Paris this year. My hope is that by sharing some of my observations and tips, focusing in particular on differences between my property purchase experiences in France versus the U.S., I will help you decide if buying and renovating is the right choice for you, and if so, help you prepare a bit for the process.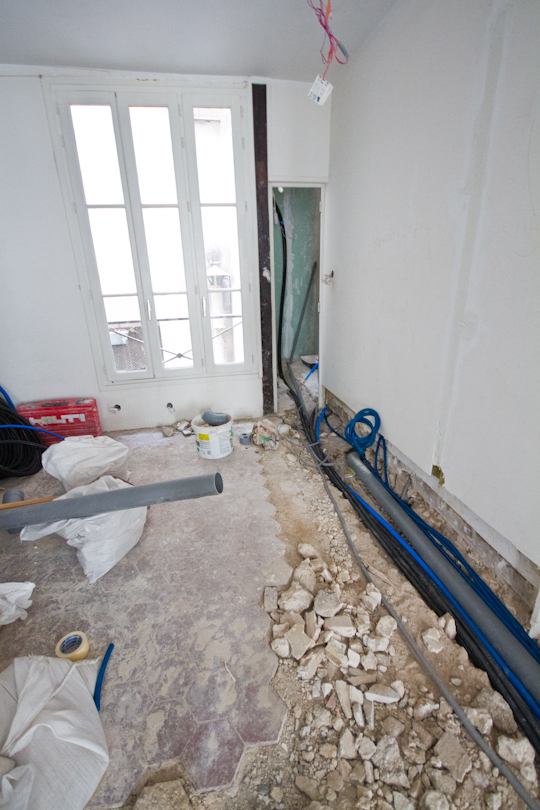 As I explained in my post on preparing for renovations, I am working with an interior designer throughout the duration of the project and we also enlisted the help of an architect. In the first month of planning and renovating (or more precisely, demolition), here is what I have learned:
Timing
You must set a date for the project to be finished. Without a target date, work could linger on forever and the costs will follow. And you must stay firm about this date. But at the same time, you cannot rush a renovation project and expect things to be done right. Rushing will lead to mistakes. It's not just the contractors who may make mistakes, but you may make mistakes by not taking the time to think every detail through and to revisit the plans once in a while with fresh eyes.
Be upfront with your architect and/or interior designer and with the contractors about your timing, but also ask them to be upfront with you and tell you what is possible and what is not. And even then, make arrangements in case the work takes longer than expected. It surely will. And if your project will continue through the summer, factor in about a month lost due to vacations.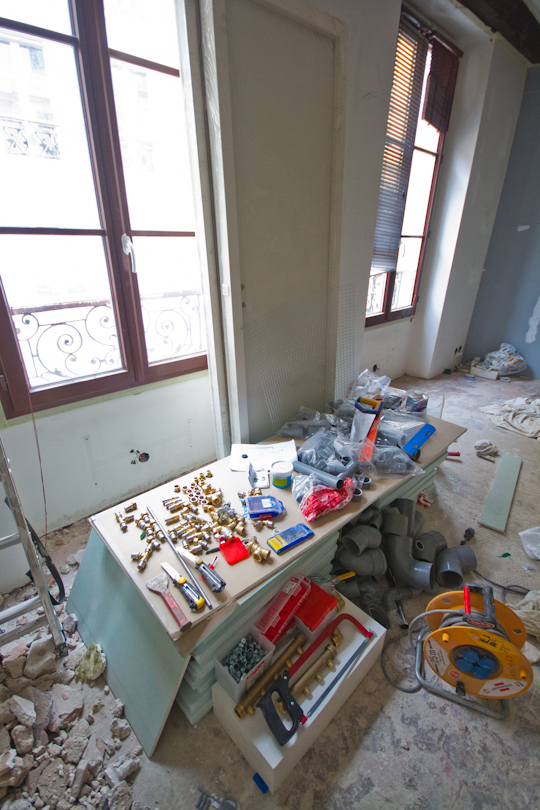 Involvement & Communication
Even if you have hired someone else to manage the project for you, stay as involved as possible. Visit your home as often as possible. If you have an idea in your mind about what you want, send photos or sketch it out.
Stay in constant communication with your designer and contractors. Especially if you are working with an interior designer or architect, spend some time getting to know one other and one another's tastes. You cannot trust your designer to know what you like and what you do not like if you don't let him or her get to know you first.
Be very clear with what your level of involvement will be. Do you plan to be involved in every minor decision? Are there certain decisions on which you will just defer to them, for example on small details such as knobs on doors or more technical questions such as where to place electrical outlets?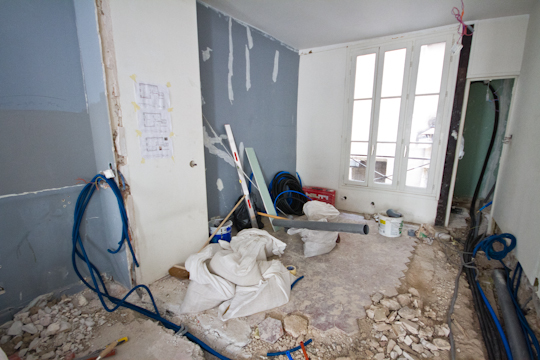 Over the past month…
Before any work started in the apartment, I left a note in each neighbor's mailbox (with a gourmet chocolate bar as a bribe) thanking them in advance for their patience with the renovation work and leaving my contact information so they could let me (as opposed to the police) know of any concerns.
I confirmed with the contractors that they would obtain any necessary building permits and I confirmed that none of the work required my building's authorization.
We finalized the architectural plans. That being said, I still pull them out at least once a week and try to visualize how each corner of the apartment will look. Just this last week, I took a look at the plans again and asked myself why we could not make the front closet bigger? And why we put the bedroom door in one spot instead of another?
I visited my interior designer at her lovely (recently renovated) home in the suburbs of Paris. We looked at the architect's plans again, tile samples, ovens and oven hoods, and fabric samples for the couch and for curtains.
My interior designer visited me at my current apartment. Together, we picked out the mirrors, paintings, other decorative items, side tables, lamps, chairs and kitchen appliances that I already have that will work in the newly renovated apartment. Here's no need to spend more money on new items if I already have them!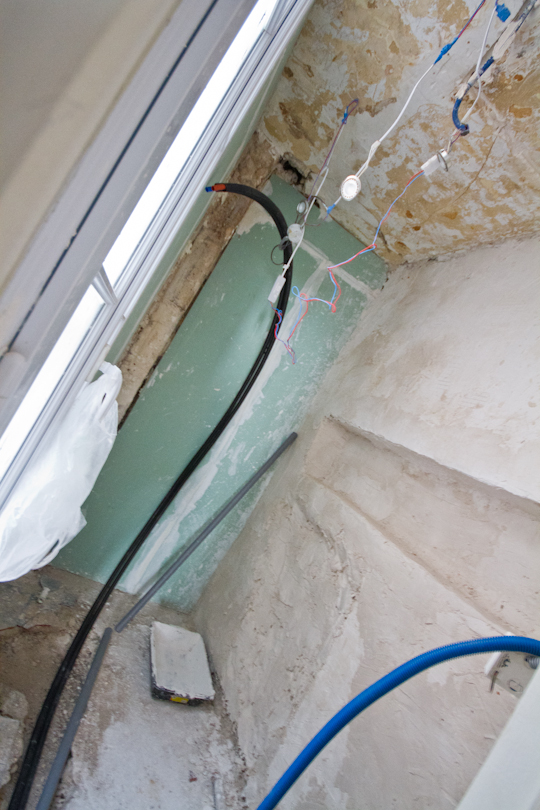 I took out a pad of graph paper and sketched out how I want the closets and cabinets to look. The architectural plans show the depth and width, but not the side view. I thought about how many closed versus open-door cabinets I want in the kitchen, open shelves versus cabinets in the living area, closets for hanging clothes versus shelves and drawers for clothes in the bedroom….
I looked at models of refrigerators, ovens, microwaves, sinks and dishwashers online, to get a general sense of what I will be looking for when we look for these items in person.
I participated in three days of filming for an episode of House Hunters International! This has been a bigger time commitment than I first expected, but it's a completely new experience for me that I have thoroughly enjoyed. I have gotten to know the producers and crew, through filming and through ongoing coordination for the show, and have a greater appreciation for how much effort on the part of so many people goes into one little 30-minute episode!
I've had almost daily conversations with my interior designer about my likes and dislikes, timing concerns, technical issues and a number of other decisions that go into making my new home.
I visited the apartment several times and took photos to document the progress! There is still quite a lot of work to be done, but it's getting there!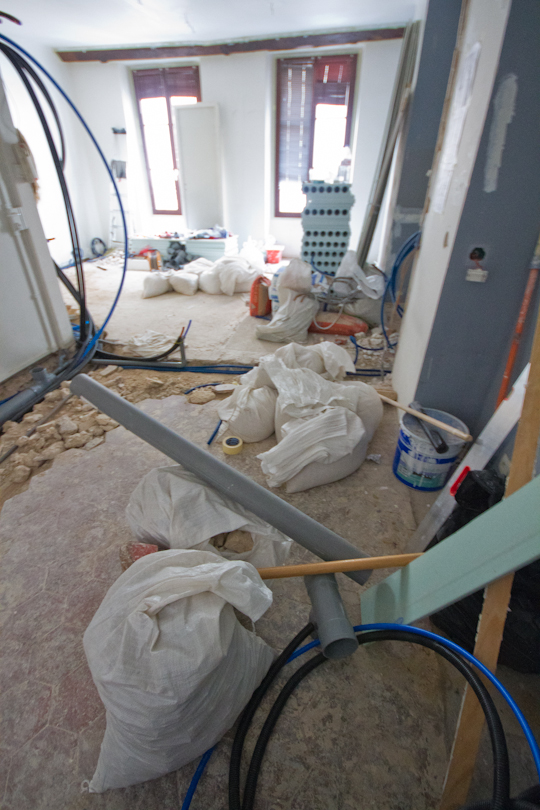 ***
Have you renovated an apartment in Paris? Do you have any tips to share on managing the process?