I recently spoke with Armelle Yons, the talented singer/actor and star of the new production "My Boudoir in Paris". Here is Armelle's story, and why you should buy your tickets now!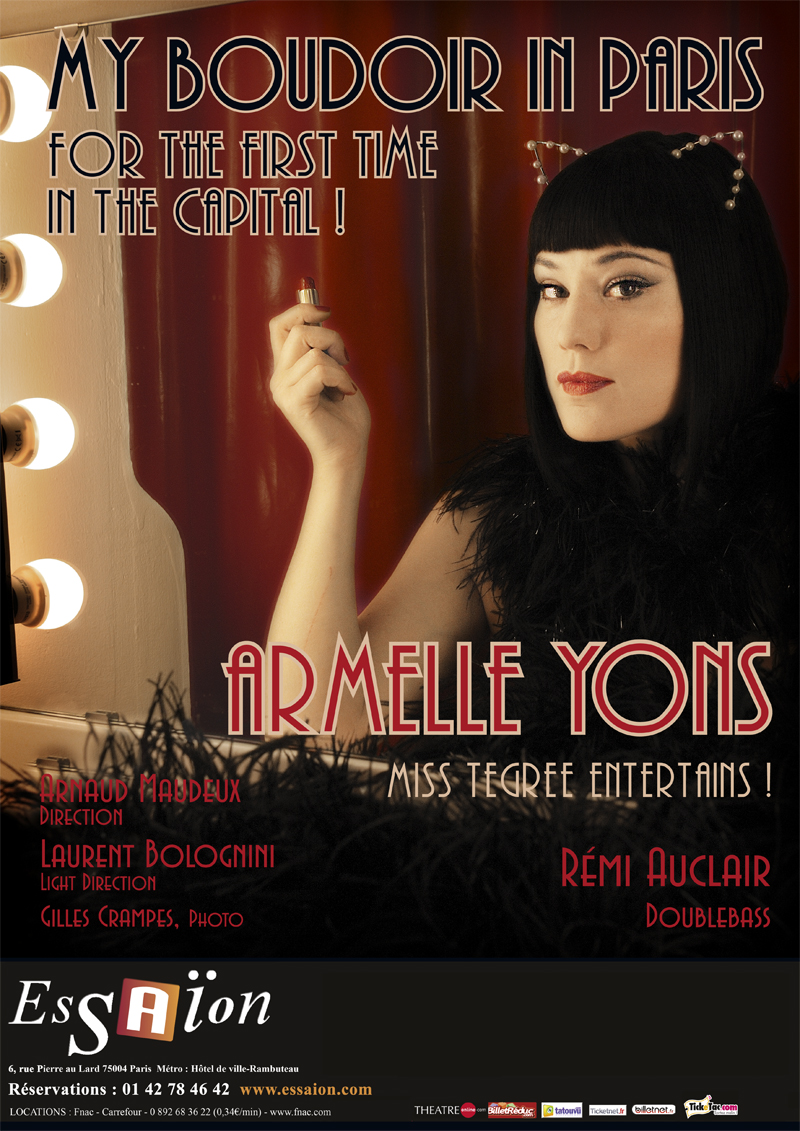 Could you tell us a bit about your new production, "My Boudoir in Paris"?
"My Boudoir in Paris" is a musical interlude, an interlude of the Parisian life which develops within a magnificent jewel: the Essaion Theatre. The perfect venue where time is suspended.
Who is Miss Tegree? Why does she make for the perfect hostess for the evening?
Miss Tegree is a modern woman, a woman of our times who draws her inspirations, her dreams, her fantasy, from the Paris of Yesterday–the Paris that she's particularly fond of.
Accompanied by a Double Bass, her show is a true invitation to rediscovering theme songs that allow her to perform vocally and emotionally.
She is in love with life, despite its flaws and hard times. She tries to see each day as … "La Vie en Rose"….
How did you first come up with the idea for this show?
The "retro" repertoire is the interesting musical approach of our musical duo: the Vocal – Double Bass combination appealed to Caroline Nin instantly when she saw us perform. She then offered to produce our duo in the superb theatre that is the Essaion. You couldn't hope for a better venue. It holds the true soul of Parisian Cabaret: its arches, its visible stones breathing the spirit of old Paris.
It was obvious that we should create the perfect ambiance to go with the songs we love to perform.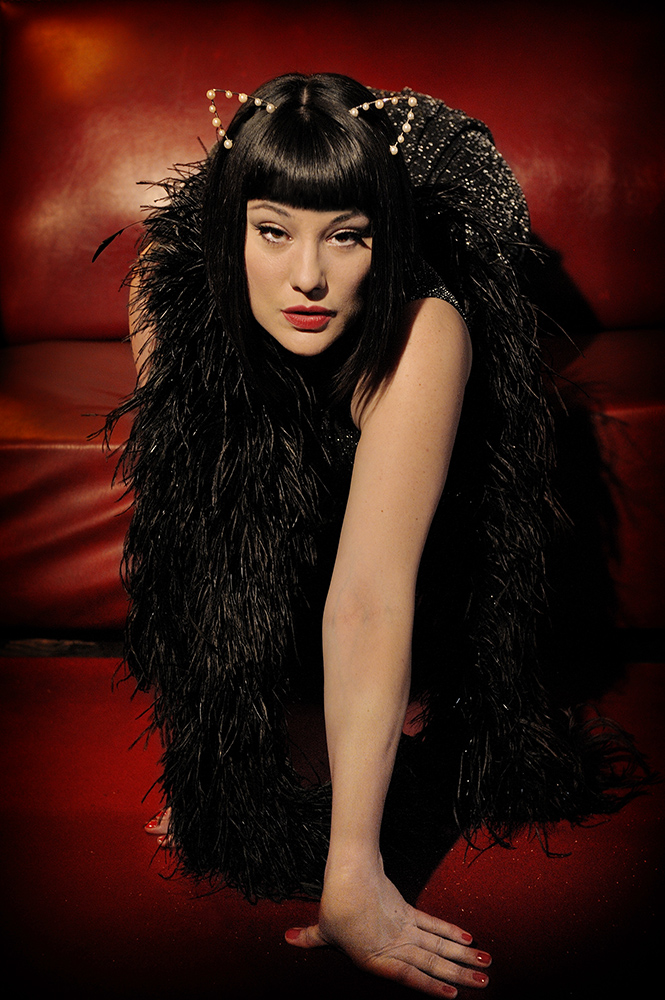 Is the show in French or English? Would it be appropriate for both French and English speaker?
It is, above all, a "Parisian" show. There are spoken words, transitions adapted to an English-speaking audience as well as French-speaking, and songs in French. The show evolves each time. It is always different and this is what we love, as Miss Tegree doesn't agree too well with routine. 
Could you tell us about the songs in the show? How were they selected?
There were clear choices for most songs. Some of them I have sung for some time. But also, Arnaud Maudeux, the director who knows me well and has been my director in the past, suggested some lesser known themes and I am delighted about this. Through this show we are trying to discover or re-discover the French songbook. Thanks to the work of our duo: Vocal – Double Bass, you will find songs from over a century totally transformed and successfully modernized.
What is your professional background?
I started on the flute at the age of six at the French School of Performing Arts (Le Conservatoire Classique), and continued for 10 years. I then entered the Opera School of Luccia Scappaticci (soloist at the Opéra de Paris). From the beginning I have been attracted to the performing arts….
Amazing encounters have drawn me more and more to the performing arts, allowing me to sing in France, the USA, the Caribbean… wherever I am taken …. Music is the best way to share emotions.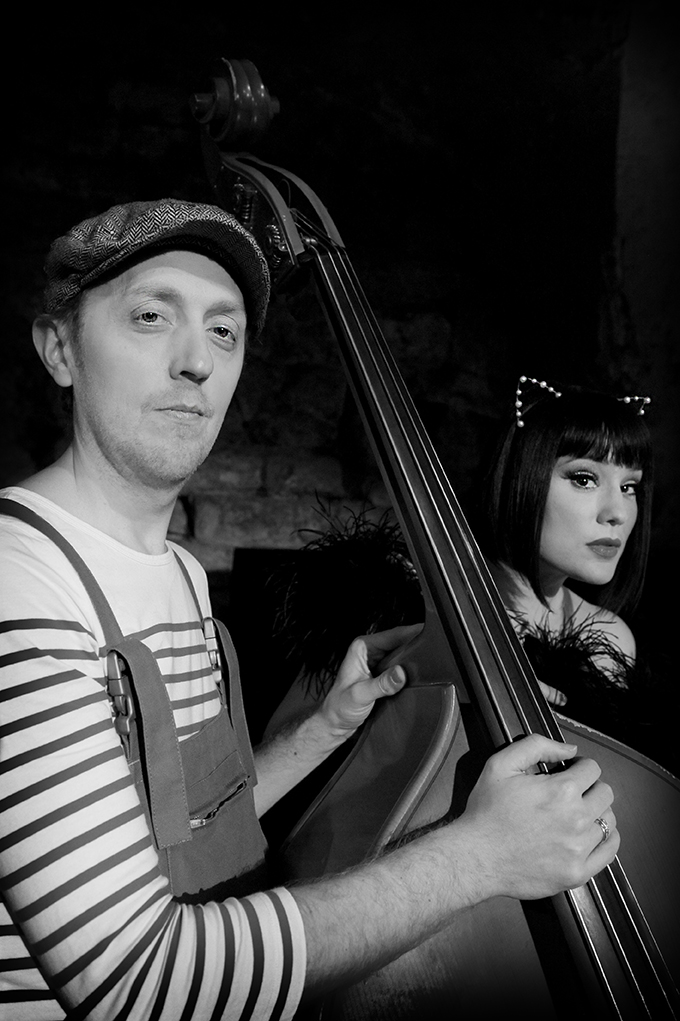 What is Rémi Auclair's role in the show?
Rémi is above all a friend, a very talented musician. His role in the show is more than the one of a simple accompanist, he is an accomplice, a soul mate, sharing his musical emotion.
I am astounded by him each night as he gives of himself and reinvents himself at each performance.
Re-inventing these ancient songs, giving them a new modern tone is a real challenge. It is a bet that we have taken as a duo. The obvious simplicity of our duo gives an incredible strength to our stage performance, each night, and the audience is always captivated and surprised. Without Rémi, Miss Tegree wouldn't be so at ease in her Boudoir.
Would the show be appropriate for a younger audience?
Yes, the show is also appropriate for younger audiences, we have had many already. They love the lyrics of the songs, they are fun and witty, and the stage direction is playful. Kids see it literally even though it is a different story for the adults…. 
For someone who would like to experience a typical Parisian cabaret, do you have a recommendation?
As a Parisienne, I love the soul of "the City of Light", its shows extraordinaires like the Moulin Rouge, where sequins and choreography of the French Cancan take us back to the Paris of the Belle Epoque.
I also love simpler venues, more unusual like "les 3 Baudets", "le Divan du Monde", "les 3 Maillets", "la Vieille Grille" or the bistros where musicians come busking. To share true moments, raising a glass in your hand, singing in unison, with your voice, with your heart–this is what I love!
***
Thank you so much for sharing your story with us, Armelle!