Tomorrow I am starting my 1,000 mile hike! There. It's out there, so now I have to follow through.
No, I'm not doing all 1,000 miles at once. Little by little. One day or one weekend at a time. It may take a year, though more likely three to four years. That doesn't matter. What matters is I've got a new project to start on that I am very excited about!
My 1,000 mile hike (or 1,700 or so kilometers) is the entire coastline of Brittany. This grande randonnée (long-distance footpath) is the GR34 or the sentier des douaniers (path of customs officers) as it's often known. Click here for a map that shows the GR34 in red (from Vitré, east of Rennes, up and around all the way to and past Vannes.)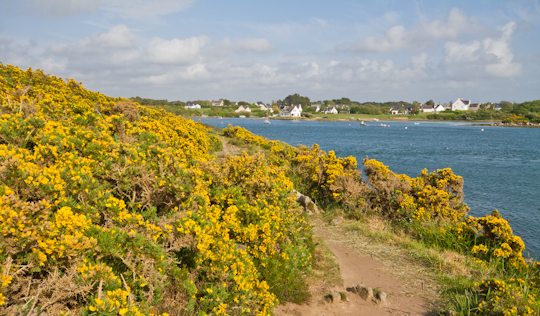 The GR34 in the Morbihan
I have already done bits and pieces of the GR34 (maybe about 200 miles in total?) but for a long time now, I've wanted to do the whole coastline and sequentially. The problem is, I didn't have three months or so to take off work and I couldn't figure out how to do it logistically in pieces. But then this summer it occurred to me after I navigated the complicated logistics of the Nantes-Brest Canal piecemeal: by dropping my bike at my end point, I could drive back to the start, hike for the day or even up to 100 kilometers or so in a long weekend, and never have more than a three-hour bike ride back to my car.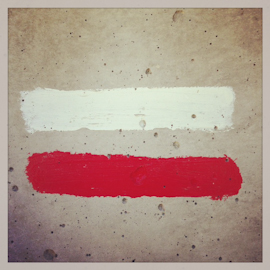 The GR34 trail markings
I had a slight hiccup last night when I realized the GR34 doesn't actually start at Mont Saint-Michel as most people believe. The GR34 starts about 140 kilometers inland, south of Mont Saint-Michel, in the city of Vitré. Most people do start at Mont Saint-Michel, and while I was looking forward to a coastal walk this weekend, I knew I'd be disappointed in myself if I didn't do the entire trail. Besides, I'm in no rush to finish!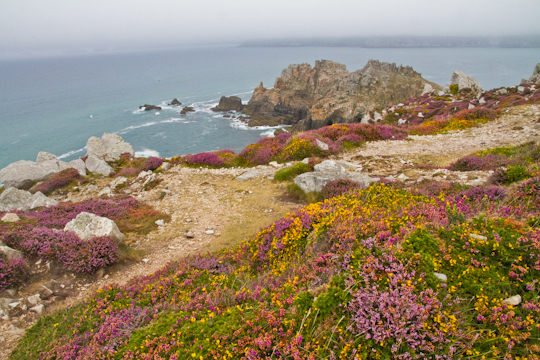 The GR34 in Finistère
So tomorrow I will drop the car in Châtillon-en-Vendelais and ride my bike to Vitré (about an hour), then hike back to Châtillon-en-Vendelais. Friday I'll stay closer to home, but then Saturday, Sunday, Monday I'll do Châtillon-en-Vendelais to Pontorson, just south of Mont Saint-Michel and from where I can take a bus back to Fougères. I'm happy to make use of public transportation where available! (The plan is to leave the car in Fougères Saturday morning, ride my bike 1 hour or so to Châtillon-en-Vendelais to the start of the hike, and then I'll just have to remember to pick up my bike again Monday afternoon!)
The logistics are a bit complicated, but doable. Wish me luck!