As you already know if you have been following my blog, I am on a mission to find worthwhile, hassle-free and cheap day trip options from Paris, especially those that are off the main tourist route.  My latest discovery was the little medieval town of Luzarches, about 50 minutes north of Gare du Nord, in the Val d'Oise.  I thank Annabel Simms and her cleverly written guide An Hour From Paris for the suggestion!  I would not recommend planning on a whole day in Luzarches, but it is worth wandering around the back streets and stone wall-lined alleys and stairways for an hour or so.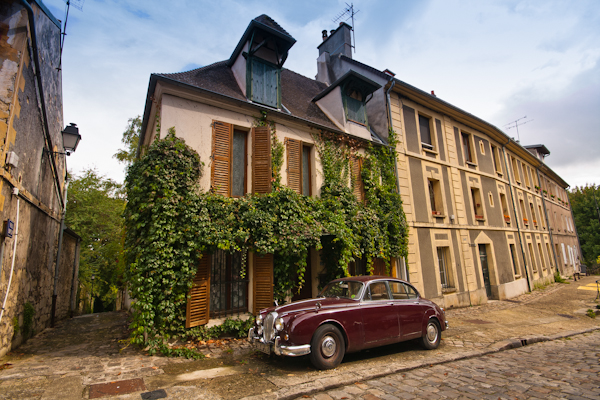 Backstreets of Luzarches (above), and the Porte de Saint-Côme, Luzarches (below)  

Annabel is clearly one after my own heart, as she will not hesitate to share in the most passionate tones her restaurant and café discoveries.  Following Annabel's recommendation, we ate lunch at the central Le Saint-Côme, just across the street from the home of Erik Satie, the early 20th century eccentric French pianist and composer.  It was far from the best meal of my life, but the pizza that came with the reasonably priced menu was not bad at all (oh, and the crème caramel too…) and the waiter was exceedingly friendly.  He even offered us free coffee or tea at the end of our meal.  How often does that happen in France?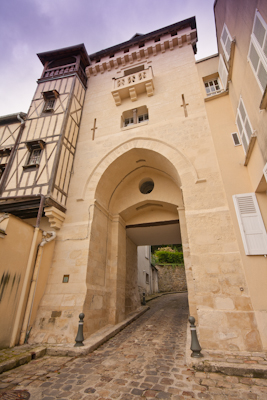 Le Saint-Côme 
26 Rue Cygne
95270 Luzarches
Tel.: 01 34 71 04 63
We then embarked on the recommended itinerary for the more ambitious (that's us!) and walked back towards Paris, roughly following the train line and the GR1 (grande randonnée or long distance path).  Unfortunately, due to force of habit (see my recent posts on Brittany and Corsica), we tended to follow GR1 even when we should not have (and perhaps also failed to read Annabel's directions before starting out), and managed to get ourselves a bit lost.  Hey, a few extra kilometers is good for the post-pizza guilt!  Eventually, we reached Seugy with its picturesque Mairie (town hall) and chapel, walked to Viarmes on the road, then from the somewhat hidden train station in Viarmes, followed Annabel's piste that unfortunately has become quite off-piste towards Belloy-en-France.  But we survived the stinging nettles and in fact had quite a laugh over our little adventure and quickly came to the old cobblestone laded country route that leads to Belloy.  After a quick exploration of the town, we took the car road for about another kilometer and a half to the train station, then we took the 45-minute train trip back to Paris.  All in all, the walk is estimated at about 8 ½ kilometers (unintended detours not included).  I am not sure any of these towns is worth a separate visit, but walking from one town to the next makes for a pleasant afternoon outing.  I will be sure to try more of Annabel's suggestions in the future and report back!
Fields near Luzarches
Logistics
SNCF trains run direct from Gare du Nord to Luzarches (at the end of the line) amlost every hour at the 00:06.  Click here to verify train times for your precise day of travel.  When you are in Gare du Nord, follow signs for the "Réseau Île-de-France" (regional train network).  Tickets are €5.70 each way but if you purchase your ticket at your RER/metro stop of origin within Paris, the same ticket will work to get you to Gare du Nord as well.  Trains leave Belloy-en-France (also €5.70) on the 00:46 (but again, please verify before departure!)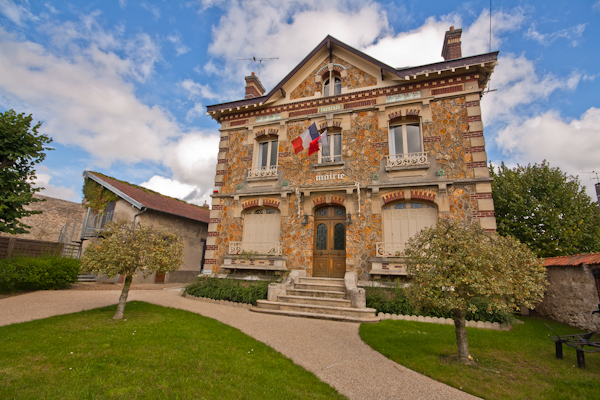 The Mairie of Seugy