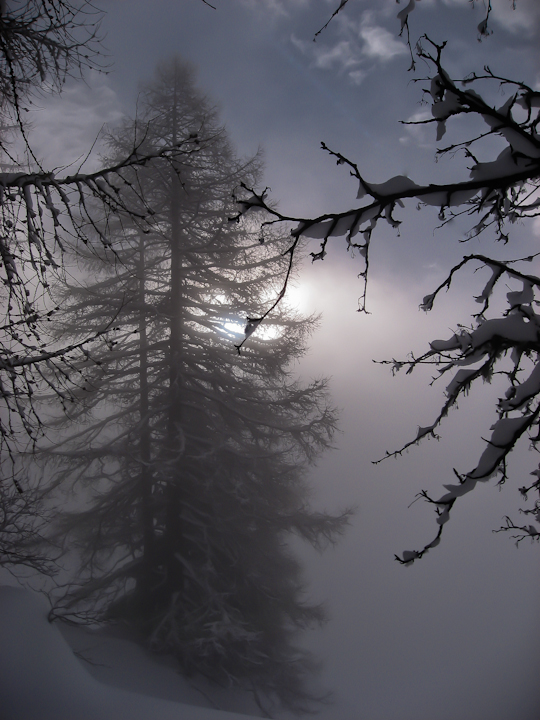 Skiing… or not
Le ski alpin or downhill skiing is not the only worthwhile winter sport. For the second year in a row, I joined my colleagues in a January office "ski weekend" in Val d'Isère, a ski resort in the Savoie, just five kilometers from the Italian border and home to the men's downhill in the 1992 Winter Olympics (officially in Albertville).
Last year, I enjoyed skiing – I took pleasure to a limited extent in the rush of adrenaline and to a greater extent in the amazing panoramic views from the mountaintops. But for a solid intermediate skier like me, the Alps are not always the most welcoming. Despite the 300 kilometers of slopes at this celebrated winter resort, surprisingly few of those kilometers have an appropriate pitch for the less-than-highly-skilled. With poor visibility (albeit better snow than last year), I was quite happy to indulge in other off-piste activities.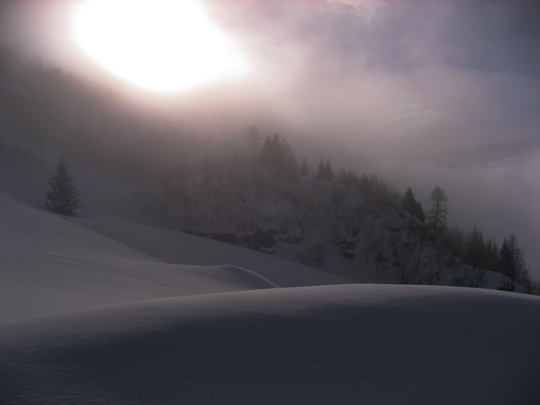 I was pleasantly surprised by our hotel, Le Tsanteleina. Prices are steep (typical for French ski resorts in season), but the hotel did an impressive job at managing a group of nearly 50 people arriving all at once, demanding room keys and expecting a late Friday night dinner.  The rooms were adequate but nothing special. However, the large spa complex made up for the smaller rooms. Be sure to reserve spa treatments in advance so you do not miss out! Even without paying extra for massages or other treatments, you can spend a few pleasant hours on the pool-Jacuzzi-hamam-sauna circuit.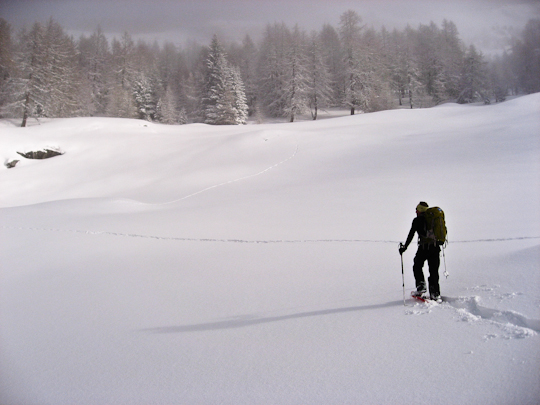 Snowshoeing
No, we did not just sit around in the spa all weekend, as tempting as that would have been! When I lived in Boston, I used to snowshoe on a regular basis. Away from Boston, I am amazed at how many people have never tried snowshoeing and how many have never even heard of it! If you have never tried showshoeing, why not try it this winter? It's basically hiking, but the raquettes (the old ones looked like big tennis racquets) fastened to your snow boots prevent you from sinking too far into the snow and the metal crampons underneath allow you to climb and descend without slipping (or without slipping too much). Here's a quick primer to give you the idea.
Sunday morning, local guide Michel Gavet picked us up at our hotel in his van and brought us to a trailhead about a 15 minute drive from Val d'Isère where we could enjoy the mountains in a more tranquil setting than at the foot of the ski slopes. For €40 per person, Michel provided snowshoes and poles, led us on a 3-hour hike and taught us a bit about the local region and its history. I would highly recommend his guided hikes for beginners or for more advanced snowshoers. It would have been impossible for us to find the trail on our own with three or four feet of snow covering the trail signs. This excursion was easily the highlight of our weekend. My friends who had never snowshoed before are now hooked.
Dining
Being nowhere near the ocean, I was impressed with the elaborate seafood buffet that Le Tsanteleina's restaurant offered on Friday evening. For traditional Savoyard fare (fondue, raclette, tartiflette, etc.), we ate at La Casserole (Chef Lieu, Tel. 04 79 41 15 71). The interior is cozy and traditional and while the fondue was not the best I have had (a bit too creamy), it was still enjoyable and certainly plentiful. If you are looking for crêpes, try Le Salon des Fous on the main road (Avenue Olympique) just across from Le Tsanteleina. And several high-altitude restaurants are accessible by cable car (Le Signal at the top of the Fornet cable car and La Folie Douce at the top of the Daille cable car, to name two) so even non-skiers can enjoy the panoramic views on a clear day.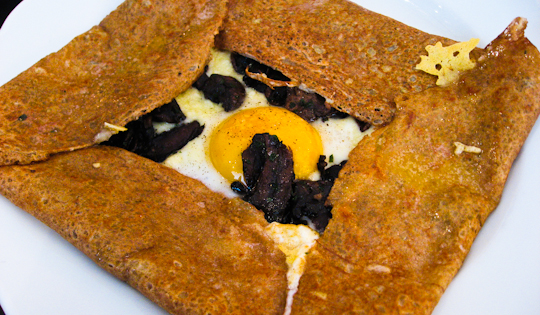 Logistics
Val d'Isère is a bit of a trek from Paris. We took a train from Gare de Lyon in Paris at 15h49 on Friday afternoon that arrived at Bourg-Saint-Maurice at 21h07. From Bourg-Saint-Maurice, we had chartered a bus to Val d'Isère, but you can make the 45-minute journey by public bus or taxi. You will find the train schedules here and bus schedules here.
The train trip to Chambéry is much shorter, but the drive is longer. I would not recommend renting a car in the winter as roads can be dangerous in the snow and may require chains on your tires. If visiting outside the winter months, renting a car might be worthwhile to explore the surrounding area. I would like to return in the spring or summer for hiking and to visit the nearby village of Bonneval-sur-Arc, one of Les Plus Beaux Villages de France. It is only 30 kilometers from Val d'Isère, but the mountain pass closed in winter.
For the return, we departed Bourg-Saint-Maurice at 18h25 on Sunday and arrived at Gare de Lyon in Paris at 23h20.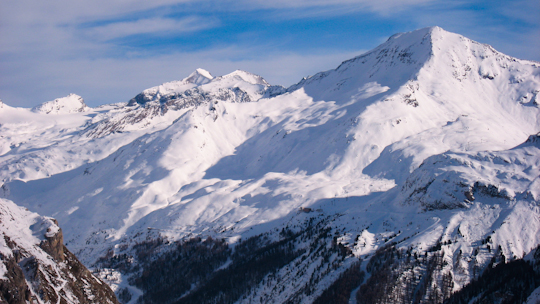 View from the top of the cable car (January 2011)
Helpful Links
Here are some helpful contacts if you are planning your own trip to Val d'Isère:
Office of Tourism
Tel. +33 (0)4 79 06 06 60
Specifically, Alpine Activities
Guided Snowshoe Hikes
Michel Gavet
Tel. +33 (0)6 62 45 89 94
raquette.aval@hotmail.fr
Hotel Le Tsanteleina
Avenue Olympique
73150 VAL D'ISERE
info@tsanteleina.com
Tel. +33 (0)4 79 06 12 13
Hotel Spa direct e-mail: spa@tsanteleina.com