Paris Weekender Turns One!
Exactly one year ago today, on April 15, 2011, I posted my very first post on Paris Weekender, on a subject close to my heart, BURRATA. This is my 122nd post. To date, Paris Weekender has welcomed 7,124 unique visitors and 20,496 pageviews.
If you enjoy following Paris Weekender, please help me celebrate this anniversary by forwarding the link to five friends!
And please keep reading for news on my new store and giving back to Paris, a quick survey, a preview of upcoming posts, a look back at the most popular posts of the year, new additions to my restaurant & bar lists and more!
Thank You!
Having this chance to write, take photos and share my experiences with you has been a wonderful treat. But what has been most amazing about this project is the opportunity it has given me to converse with my readers and other bloggers: my exchanges with those of you who comment on my posts or on my Facebook page, the friends I have made through Pinterest and Twitter and through our in-person Tweet-ups and other blogger gatherings, and the contacts and life-long friends I have made by participating in the Paris blogging community. I never expected blogging to offer me so much in return, and for that, I THANK YOU!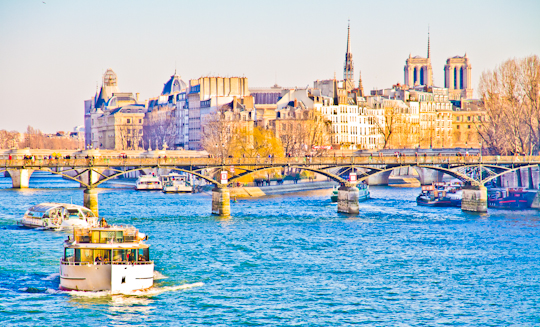 What's New on Paris Weekender?
The big news is, my store is now online! Of course you can still find all the same information for free on my site (including the new additions posted below). But for my convenient, ready-to-print Mini Guide and restaurant & bar lists, please click here. And not only will you help me to maintain the Paris Weekender site, but you will be helping the greater Paris community, because…
10% of all sales (that's 10% of the total amount you pay) will go to Emmaüs France, a charitable organization founded in 1949 that assists homeless people, not through hand-outs but by helping people to move on from homelessness. Emmaus does this by providing job training and work (primarily furniture rehabilitation) in addition to clothing, food and accommodations in a community environment with the necessary support for lasting change. Click here for a little history on Emmaüs France (in English) or here for more information on how Emmaüs works.
To kick off the store, until midnight on this Monday, April 16th only, I will donate 50% of all sales to Emmaüs. So don't wait!
Don't forget that you can still purchase photos of Paris and beyond through my photography site, as well as other photo merchandise such as greeting cards, coasters, mugs and more!
And whether you live here or are just visiting, you can always view my (frequently updated) slideshow of Paris and send free postcards to your friends and family back at home.
What's Next for Paris Weekender?
If you have not yet signed up to receive Paris Weekender's newsletters, please do so now! When you sign up, you will receive a free copy of Paris Weekender's Photography Guide to Paris. And I am planning some fun new additions to the monthly newsletter, stuff that you won't find in my regular posts on the site. Sign up now so you won't miss out!
I have been working on the half-day Paris Itineraries – six of them are already up on the site and there are more to come soon. I'd love to know what you think!
I am working on a store through Cafepress.com where you will soon be able to purchase more fun Paris souvenirs. More details coming soon!
Stay tuned for new posts in the coming weeks to help you get ready for summer! I'll be posting two new itineraries for weekend trips to Brittany (starting tomorrow). And next week I'll kick off my series of posts on Buying Property in Paris.
But enough about what *I* have planned – I want to know what YOU think! Please help me out by taking this quick 10-question survey. It should only take you about 5 minutes. Thank you very much for your help! I really appreciate it!
Most Popular Posts
Looking back on this last year, my first year of blogging, it is interesting to see which posts have received the most traffic. The No. 1 most visited post thus far is It's Sunday! Where Can I Eat in Paris? Not surprising, given that it's a useful one to refer back to often! The second most popular was Moving to Paris: 5 Things You Should Know Soon After Your Move to Paris. Then came one that was definitely one of favorites to write: 20 Things You Should Know So Parisians Won't Think You Are Rude. My post on my top shopping spots in Paris was also up there: My Favorite Stores in Paris. And coming in as No. 5 was Meet the Artists at the 59 Rivoli Aftersquat!
I think my personal favorite post to write was When Friends Come and Go. I often write posts that offer practical information, but I also enjoy pushing myself once in a while to reflect on my more personal experiences as an expat in Paris.
I'd love to hear which of my posts were YOUR favorites!
New Mini Guide to Paris, Restaurant & Bar Lists and Store
In recognition of this 1-year anniversary of Paris Weekender, I have once again updated my Mini Guide to Paris, as well as my full list of Paris restaurant & bar recommendations, my full list of Paris bar recommendations and my list of just my very favorite restaurants & bars in Paris. As always, all the information is available free on Paris Weekender, but you may now download the printable PDFs through MY NEW STORE.
Below are the latest bars and restaurants that I have added to my lists (as always, "**" signifies some of my real favorites). See also my recent posts for more details on dining at Verjus, Au Tournebièvre and Sassotondo and for my list of favorite terraces in Paris.
French:

**Verjus (1st) 47 rue Montpensier (wine bar)/52 rue de Richelieu, Tel. 01 42 97 54 40, verjusparis@gmail.com. Wine bar: Mon – Fri, 18h – 23h, Restaurant: Mon – Fri, 19h – 22h. Adorable wine bar with a stone-vaulted ceiling and tasty small plates for under €10. But if you're looking for one splurge in Paris, the restaurant upstairs should be it. Set menus at €55 or €70 (and the €55 menu is plenty) but do not miss the spot on wine pairings for €30/€40 additional. It's worth it. Very friendly and inviting, run by Laura and Braden of Hidden Kitchen fame. An evening at Verjus is not just a dinner, it's an experience.
Spring (1st) 6 Rue Bailleul, Tel. 01 45 96 05 72. I hesitated whether to include Spring or not. It's one of the "must go to" restaurants this year and I find that trendy places in Paris are often overrated. My dinner was wonderful, but for the same high price tag (€65 for the fixed-price set menu) my vegetarian friend was served a cheese plate. So if you are looking for a splurge and you will eat anything, go, but otherwise, skip it.
**Pamela Popo (4th) 15 Rue François Miron, Tel.: 01 42 74 14 65. Open Mon – Thurs 12h–23h, Fri 12h–23h30, Sat 13h–23h30, Sun 13h–23h. Small bar downstairs (open every day 18h – 2h) and restaurant upstairs. Mix of cozy, traditional and a touch of modern. Friendly service, delicious food. The mushroom ravioli with French toast was especially good. Possibly the best café crème I have had in Paris.
**Au Tournebièvre (5th) 65, quai de la Tournelle, Tel. 01 44 07 27 34, letournebievre@orange.fr. Open Tuesday – Saturday for lunch & dinner, Sunday for lunch only. An inviting spot for a quiet, intimate meal or for groups. Plenty of delicious choices in the €31 fixed-price menu, even for vegetarians. Friendly service, views of Notre Dame from the small terrace.
Café Louise (6th) 155 Blvd Saint Germain, Tel. 01 42 22 88 98, info@cafelouise.fr. Open Sun – Wed 7h – 2h, Thurs – Sat 7h – 5h. This new venue embraces a mixed-use concept, offering breakfast, lunch and dinner and a buffet brunch on Sundays, as well as live music in the evenings. During the day, it's a bright, inviting, traditional atmosphere but it turns lively late night.
Italian:

La Scala (2nd) 11 Blvd de Bonne Nouvelle, Tel. 01 42 36 01 30. The pizzas are quite good but the desserts are exceptional. Friendly owners make it clear that once you step inside, "You are no longer in France. You are in Italy."
Assaggio (4th) 48 rue du Temple. A newer Italian option specializing in pizza by the slice with numerous choices for toppings.
Restaurant Le Perron (7th) 6, rue Perronet, Tel.:  01 45 44 71 51, roberto@restaurantleperron.fr. Authentic and very fresh Italian fare in an intimate setting. On the expensive side but a good choice for a quiet evening out with excellent food.
**Sassotondo (11th) 40, rue Jean-Pierre Timbaud, Tel. 01 43 55 57 00. Open for dinner only, closed Tuesday & Wednesday. Authentic and hearty but not heavy Tuscan fare in this cozy, modern bistro. Friendly service, all Italians. The €34 four-course fixed-price menu is an exceptional value.
Brunch/American:

**Ellis Island Café (7th), 5 rue Perronet, Tel: 01 40 49 08 08.  The best American diner in Paris I have found yet, and they even know how to do eggs correctly.  It's been open for more than 20 years and still doing a booming business – be sure to reserve at least a couple of days in advance for weekend brunch.
Pizza Girl (6th) 132 Rue De Vaugirard, Tel: l 01 45 49 12 12 and other locations. I would say this is by far the best pizza in Paris that you can get for home delivery, and delivery was quite quick as well even on a super cold winter night!
Indian:

Les Sommets de l'Himalaya (4th) 73 rue Saint Martin, Tel, 01 44 59 37 76. I was shocked that this Indian restaurant right in the middle of Les Halles was actually quite good (for Parisian Indian food). Service is friendly and efficient.
Thai:

**Silk & Spice (2nd) 6 rue Mandar, Tel.: 01 44 88 21 91. Open 7 days/week. Sleek, upscale setting but without ridiculous prices (€29 for appetizer + main dish), excellent quality and tasty food and friendly service.
Blue Elephant (11th) 43 Rue Roquette, Tel: 01 47 00 42 00. In a large and lively space, Blue Elephant may be pricey (€20 – 26 for most mains or €48 for a 3-course menu) but the food is flavorful, ingredients fresh and portions larger than normal for Paris.
Japanese:

Orient Extrême (6th) 4 Rue Bernard Palissy, Tel. 01 45 48 92 27. A definite splurge and a bit too trendy for my tastes, but the food is well worth it. The black miso cod melts in your mouth.
Korean:

**Restaurant Bibimbap (5th) 32 Boulevard de l'Hôpital, Tel. 01 43 31 27 42, kwonyoungchul@hotmail.com. The best Asian food I've had in Paris that doesn't blow the budget. €23 – €28 will buy you a plentiful 2-course meal with fresh ingredients and efficient service. Open Sundays as well.
Georgian:
La Maison Géorgienne (6th) 3 Rue du Sabot, Tel. 01 45 48 48 08. The decor is quite a site in itself – cozy bordering over-the-top but it makes for a wonderful change of scenery. The stuffed grape leaves and extremely tender chicken brochette were especially tasty and the bread is addictive.
Bars:

**Wine by One (1st) 9 rue des Capucines, Tel. 01 42 60 85 76. An absolutely brilliant concept whereby you purchase a debit card that allows you to serve yourself from among 100 different wines and champagnes, ranging from very inexpensive and quite expensive. See my post for more details.
**Le Gobelet d'Argent (1st) rue de la Petite Truanderie. In this quieter corner of Les Halles, this tiny laid-back bar is an ecclectic mix of near-haunted house and retro.
Hotel Costes (1st) 239, rue St-Honoré, Tel. 01 42 44 50 25. I still  have yet to try Hotel Costes' restaurant, but if you want the experience of this posh top hotel and restaurant without (all) the price, get dressed up and grab a drink in the bar area. It won't be cheap, but sip slowly and drink in the atmosphere.
**L'Ivress (2nd) 5 Rue Poissonnière, Tel. 01 42 21 90 26. Despite the name ("Drunkenness"), this wine bar is actually a relatively sophisticated (yet unpretentious) venue. The staff is quite friendly. Just beware that they close on the early side for a bar (generally around 11pm).
Au Rocher de Cancale (2nd), 78 rue Montorgueil, Tel. 01 42 33 50 29. It's a restaurant (not just a bar) and their tuna tartare with avocado and sesame seeds is fresh and delicious, but what I like most about this venue is the friendly service and that they will give you a table even if it's just for a drink and not for a meal.
Le Coeur Fou (2nd) 55 rue Montmartre, Tel.: 01 42 33 91 33. A small, relaxing and not too pricey bar for a beer, a glass or wine or more creative cocktails. Open every day from 5pm – 2am.
**Pamela Popo (4th) 15 Rue François Miron, Tel.: 01 42 74 14 65. See also above under "French". Small bar downstairs (open every day 18h – 2h).
La Belle Hortense (4th) 31 Rue Vieille du Temple, Tel. 01 48 04 71 60. A small and inviting bookshop/wine bar, the perfect stop for an early evening drink.
Le Petit Fer à Cheval (4th) 30 Rue Vieille du Temple, Tel. 01 42 72 47 47. Across the street from and same owners as La Belle Hortense, this tiny, traditional bar also has seating for full meals in the back.
Café Parisien (19th) 2 place Rhin et Danube, Tel. 01 42 06 02 75. A pleasant stop for a drink or a bite to eat when you are in the 19th, by Buttes Chaumont or Mouzaïa. The interior is cozy and there is a fair bit of seating outside in nicer weather.
Ice Cream:

**Pozzetto (4th) 39 Rue du Roi de Sicile, Tel.: 01 42 77 08 64. I don't know how it took me so long to try Pozzetto. The selection is smaller than at some other gelato places in Paris, but it's because the gelato is made fresh daily (and the shop is run by real Italians). Pozzetto also has a selection of coffees and a couple of tables for those who want to eat/sip sur place.
***
Have you tried any of these restaurants listed above? What did you think? Where should I try next?