My eighth post in this series on Buying Property in Paris is a little update on the renovations process.
Before reading this, I invite you to read about my thoughts and experiences on pre-search preparations, the apartment search, signing the purchase agreement, planning for renovations, the closing, managing renovations and an interview with Adrian Leeds.
My hope is that by sharing some of my observations and tips, focusing in particular on differences between my property purchase experiences in France versus the U.S., I will help you decide if buying and renovating is the right choice for you, and if so, help you prepare a bit for the process.
The AngloInfo France site also has some helpful tips and vocabulary words to assist you in your renovation project.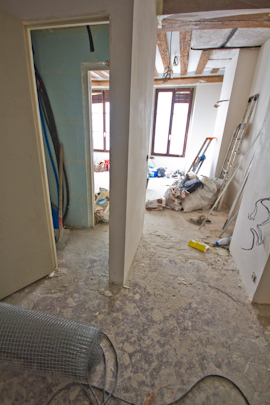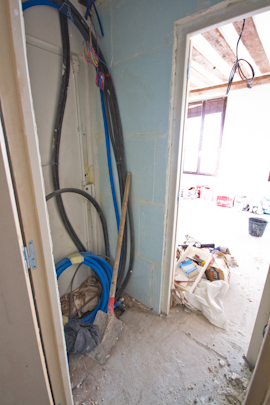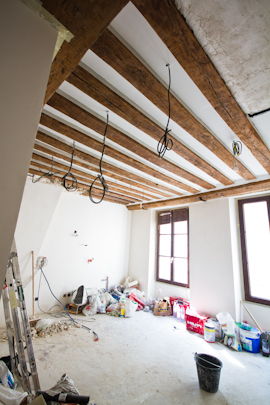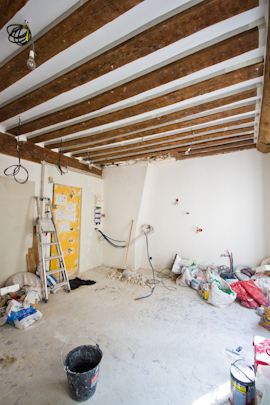 State of my Marais apartment on August 1, 2012

***
Finally, some progress!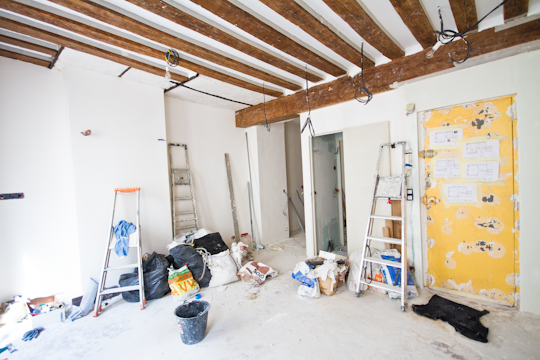 My Marais apartment on August 1, 2012
The apartment is still far from habitable, but we are no longer in the destruction phase and clearly into the construction phase now:
We are now using the original apartment entrance that leads directly into the living area. The old door is blocked off as it's now in front of the toilet!
The electrical wiring is just about done
I have a bathroom! Well, a WC. That's not to say that I actually have a toilet or a sink yet, but the little room to house them has been constructed where the hallways used to be.
I have exposed beams! The poutres apparentes are lovely and while they added a chunk of cash to the budget, I think it was worth it!
Meanwhile…
I have moved most of my furniture to a house that a friend and I have rented in Brittany. So expect many more Brittany posts like this one in the coming months.
I will be ready to vacate my current apartment on August 14th – tomorrow!! At least, I have no choice! Last week, someone came to bouchonner the holes in the wall from the pictures and mirrors I had hung. I want to get my full security deposit back! And little by little I have cleared out the last of my stuff… almost!
I have to pack a bit early for upcoming trips to Greece and the U.S. so I don't accidentally put the things I need for these trips into storage.
The petting zoo, sadly, has been dismantled. I had been cat-sitting for a furry friend whom I delivered to the airport last Monday. Once he finally cleared all the necessary medical tests and received the proper documentation (including a French passport, I'm so jealous!), he was able to be reunited with his parents who moved to Dubai last month. And the rabbit I've been looking after is vacationing in Brittany for the remainder of the summer.
I have sublet a studio with another friend for my between-apartments time so I won't be completely homeless in the interim.
Next week, we'll have one more day of filming for House Hunters International! The final day of filming will be in mid-October when I am finally moved into the new place.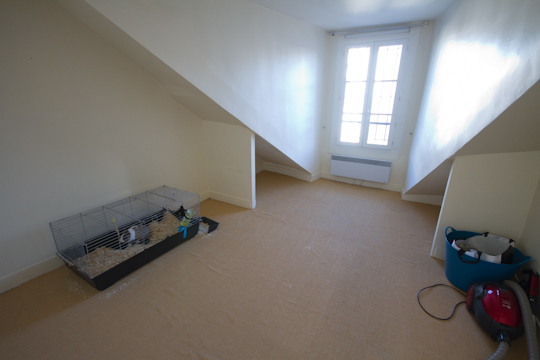 The rabbit in his private chambers in St. Germain
More updates to come… wish me luck!
***
Have you renovated an apartment in Paris? Do you have any tips to share on managing the process?